Students Honored at Awards Ceremony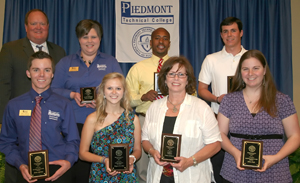 At Piedmont Technical College's 37th annual Student Awards and Recognition Program, president Dr. Ray Brooks applauded the achievements of more than 60 student leaders. The ceremony, which was held in the college's James C. Self Conference Center, attracted students, faculty, staff, friends and family members.
Becky McIntosh, vice president for student development, welcomed students and guests, and Suzy Murray, business instructor, was principal speaker. Students who were listed in this year's edition of Who's Who among Students in American Junior Colleges were recognized by David Rosenbaum, associate dean of student services. Carol Paguntalan, director of academic advising, congratulated Presidential Ambassadors for their leadership during the current academic year.
Making presentations were Jerry Alewine, dean of health sciences; Keith Lasure, dean of engineering and industrial technologies; Sissy Copeland, dean of business information technologies and public service; Rosalie Stevenson, interim dean of nursing; and Donna Foster, dean of arts and science.
President's Award
The institution's most prestigious honor, the President's Award, went to Kim Ashley of Greenwood, an administrative office technology major. Ashley was also named outstanding graduate in the information technologies division and in her curriculum.
Distinguished Student Awards
Each academic division of the college honored its top graduate with the Distinguished Student Award. In addition to Ashley, winners were Drew Jefferies of Abbeville, industrial technology; Megan Hawkins of Prosperity, public service; Jamie Roberts of Honea Path, nursing; Julia Hale of Fountain Inn, engineering technology; Landaris Miller of Greenwood, arts and science; and Graham Wright of Greenwood, health sciences. Deans from each major academic division also made presentations to these winners.
Curriculum Awards
Outstanding graduates in each of the college's academic programs also received special recognition.
Outstanding graduates in the information technologies division in addition to Ashley were Carlton Coble of Greenville, funeral services; Diane Carter of Ninety Six, general business; Charity Pendelton of Greenwood, commercial art; and Jacob Goforth of Greenwood, computer technology.
In the arts and science division, Miller was named outstanding graduate in the associate in arts curriculum. Claiming the honor in the associate in science curriculum was Wimoke Boonnuch of Pomaria.
Outstanding graduates in the public service division were Tiffany Hill of Greenwood, criminal justice; Hawkins, early care and education; and Rhonda Curenton of Clinton, human services.
In the engineering and industrial technologies division, winners were Hale and Jefferies, electronic engineering technology and BCT, respectively; Tyler Huffman of Gray Court, automotive technology; Sam Meakim of Waterloo, welding; Doug King of Greenwood, mechatronics technology; Rebecca Benson of Prosperity, engineering graphics technology; Joseph Smith of Ware Shoals, horticulture technology; William Harter of Ninety Six, heating, ventilation and air conditioning technology; Craig Senn of Clinton, industrial electronics technology; Caleb Miller of Ward, agriculture technology; James Ingleheart of Greenwood, mechanical engineering technology; and Ronnie Davis of Honea Path, machine tool technology.
Roberts, a practical nursing major, was named as outstanding graduate in her curriculum and was joined by Wade Nicholson of Greenwood, associate degree nursing.
Outstanding graduates in the health science division were Wright, cardiovascular technology; Thomas Gary of Newberry, patient care technician; Briana Ray of Greenwood, pharmacy technician; Angela Neal of Fountain Inn, massage therapy; Erica Mason of Greenwood, respiratory care; Erica Ashley of Little Mountain, veterinary technology; Janice Brock of Honea Path, surgical technology; Kayla Hall of Leesville, radiologic technology; and Isabel Cook of Gray Court, medical assisting.
Service Awards
A number of students were recognized for their contributions to the enhancement of student life through service to college activities and organizations.
Photo Caption: Students at Piedmont Technical College were recently honored at the annual Student Awards and Recognition Program. Receiving the Divisional Distinguished Student awards were, front from left, Drew Jefferies from Abbeville, Industrial Technology; Megan Hawkins from Prosperity, Public Service; Jamie Roberts from Honea Path, Nursing; and Julia Hale from Fountain Inn, Engineering Technology. Back, Dr. Ray Brooks, PTC president; Kim Ashley from Greenwood, Information Technology; Landaris Miller from Greenwood, Arts and Science; and Graham Wright from Greenwood, Health Sciences.