SC Promise
MAKING COLLEGE MORE AFFORDABLE
The expanded SC Promise Scholarship pilot program offers a maximum of $2,000 per academic year after all funding from Pell Grants, Tuition Grants, Life Scholarship and Lottery Tuition Assistance have been exhausted. The SC Promise scholarship can be applied toward tuition, fees, and books. This expanded scholarship aid is available to any students who have graduated in the last six years from one of 34 school districts in South Carolina.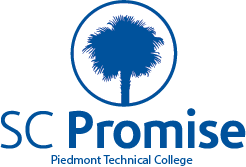 TAKE YOUR NEXT STEP TODAY
Complete your PTC Application
Fill out the FAFSA
Email your completed SC Promise Application to financialaid@ptc.edu 
Eligible School Districts in PTC's Service Area
Abbeville
Laurens 55
Laurens 56
McCormick
Saluda
Eligibility Requirements
Graduation: You must have earned a high school diploma or GED between 2013 and 2018 while residing within one of the eligible school districts identified below.
Application: Apply to Piedmont Technical College. You must also complete the Free Application for Federal Student Aid (FAFSA) and the SC Promise Scholarship Application.
Programs: You must pursue a certificate, diploma or degree from Piedmont Technical College. Students that have previously received a bachelor's degree are not eligible.
Classes: You must enroll in at least six credit hours during the Fall 2018 and/or Spring 2019 semesters.
GPA: You must maintain a 2.0 GPA.
Mentoring Activities: You must participate in mentoring activities as determined by the local college. Examples include, but are not limited to, development of a personal success plan and financial counseling.
Covered Expenses
Recipients may receive up to $2,000 per academic year after all funding from the Pell Grant, Tuition Grant, LIFE Scholarship and Lottery Tuition Assistance (LTA) has been awarded. The scholarship may cover the cost of tuition, mandatory fees and program fees. It includes a $300 allowance for books. Refunds are not allowed.
Transferability of Funds
The SC Promise Scholarship is portable across the state. Students meeting the eligibility criteria may apply the scholarship towards the cost of tuition and fees as well as an allowance for books at any of the SC Technical College
System's 16 colleges.
Leaves of Absence
A student may continue to receive scholarship funds following an approved leave of absence as long as the sum of the absences does not exceed six months.
All Eligible Districts
| | | | | |
| --- | --- | --- | --- | --- |
| Abbeville | Berkeley | Florence 1 | Jasper | McCormick |
| Allendale | Chesterfield | Florence 2 | Laurens 55 | Orangeburg 3 |
| Bamberg 1 | Clarendon 1 | Florence 3 | Laurens 56 | Orangeburg 4 |
| Bamberg 2 | Clarendon 2 | Florence 4 | Lee | Orangeburg 5 |
| Barnwell 19 | Clarendon 3 | Florence 5 | Lexington 4 | Saluda |
| Barnwell 29 | Dillon 3 | Hampton 1 | Marion | Williamsburg |
| Barnwell 45 | Dillon 4 | Hampton 2 | Marlboro |   |