News
PTC is expanding its degree offerings in Newberry with the addition of the Mechatronics Technology associate degree beginning fall 2014.The college will host an information session Wednesday, August 6 at the Newberry County Campus beginning at 6 p.m. The session will be held in room 420NN.
View all news
Blog
The 16 technical colleges serving South Carolina have joined forces to offer a new, innovative advanced manufacturing certification designed to prepare unemployed or underemployed workers for high-demand jobs in advanced manufacturing.
View all entries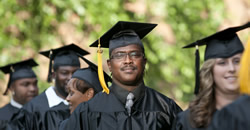 Getting your GED is a major step. We want to help you take the next one.
In today's job market, some education beyond high school is increasingly important for employment and financial stability. PTC's tuition rates are already the most affordable in the region. We want to help make cost even less of a factor to help you take the next step.