At Piedmont Technical College, we recognize the sacrifice of those who have served in the United States Armed Forces, and we are honored to assist you in using your benefits to advance your educational and career goals.
PTC is approved for many veterans' educational benefits and is fully staffed to assist veterans in processing their benefits. For assistance with academic or financial advising, access to disability counseling, job search activities, or any issues related to enrollment or completion of a program, please contact Nicole Frosceno, Veterans Services Coordinator, at (864) 941-8657 or by email at frosceno.n@ptc.edu. Prospective students are also encouraged to speak with their Educational Services Officer (ESO) or counselor within their military service prior to enrolling.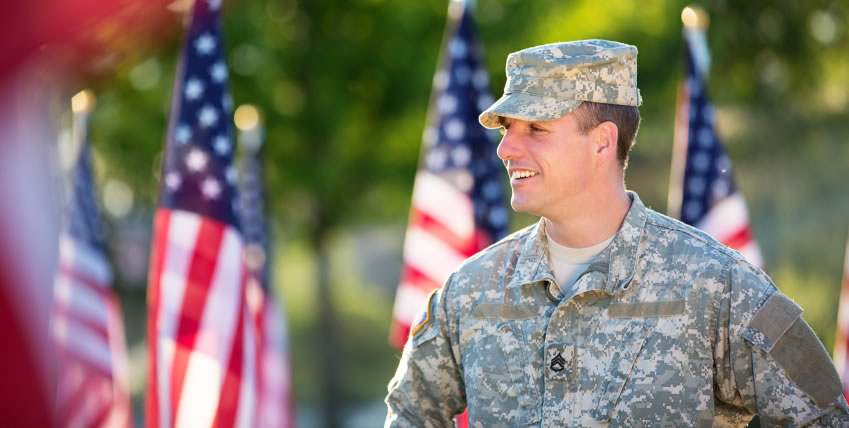 Helpful Links
On this page:
Which PTC programs are eligible?
All PTC credit programs are eligible for VA Benefits. With more than 80 programs in fields that are in demand, Piedmont Technical College has the education and training that's right for you.
 
What benefits am I eligible for?
Calculate Benefits
Use the GI Bill® Comparison Tool to calculate your benefits based on your status and length of service. Visit our VA Benefits page for additional details and programs.
Yellow Ribbon Program
Piedmont Tech was recently accepted into the Yellow Ribbon Program by the U.S. Department of Veterans Affairs. The program allows schools to cover any tuition expenses for veterans that are not already covered by the Post 9/11 GI Bill®. The VA will match PTC dollar-for-dollar in covering the additional expenses. The program is particularly geared toward veterans who do not qualify for in-state tuition. Piedmont Tech can accommodate 50 students in the Yellow Ribbon Program.