Welcome from the President
Founded in 1966 and accredited by the Southern Association of Colleges and Schools, Piedmont Technical College is a comprehensive two-year college offering university-level education and hands-on career training.
We believe that you deserve an education that's driven by your goals -- an education designed from the ground up to prepare you for success.
At Piedmont Technical College, we believe it's your right to succeed. We believe that you deserve an education that's driven by your goals: an education designed from the ground up to prepare you for success, that you don't have to take out a second mortgage to afford. We teach skills you can put to work on day one -- knowledge you'll use for the rest of your life. 
We offer a wide variety of career studies programs that will prepare you directly for the work force, continuing education courses for personal and professional development, and a university transfer curriculum designed to fulfill the first two years of a bachelor's degree at four-year colleges and universities. 
High school graduates looking for practical education that will quickly prepare them for a rewarding career, those looking for a starting place before heading to a university, or anyone returning to school to further his or her education will find Piedmont Tech a perfect fit.
With locations in each of the seven counties we serve--Abbeville, Edgefield, Greenwood, Laurens, McCormick, Newberry and Saluda--as well as an online campus accessible anywhere there's an internet connection, we work to make the advantages of higher education available to everyone, regardless of their personal circumstances or previous educational preparation.
Whether you know exactly what you want in life, or if you're still searching for your place in the world, with more than 80 academic programs, and with transfer opportunities to over 40 college and universities throughout South Carolina, PTC has a program that's right for you.
Sincerely,
L. Ray Brooks, Ed.D
President
Did you know?
Publications for the Community
Annual Reports
Each year, the College publishes a report on progress toward its strategic goals, its financial status, and a snapshot of its student enrollment.
2015-2016 | 2014-2015 | 2013-2014 |2013-2014 | 2012-2013 | 2011-2012 |2010-2011 | 2009-2010 | 2008-2009 | 2007-2008
CareerFocus
Career Focus magazine is a community resource produced by PTC that's packed with information about College programs, career trends, and job-hunting strategies. Whether you're researching your first career or retraining for a new one, you'll find up-close profiles of career fields and interviews with professionals about their jobs.
Spring 2013 | Fall 2012 | Spring 2012 | Fall 2011 | Spring 2011 | Fall 2010 | Spring 2010 | Fall 2009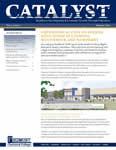 Catalyst Newsletter
The Catalyst Newsletter offers a biannual snapshot of the College's work with leaders and businesses in our seven-county service region to increase opportunities for economic development through education and work force training.
Winter 2014 | Summer 2013 | Winter 2013 | Summer 2012 | Winter 2012 | Summer 2011 | Winter 2011 | Summer 2010 | Winter 2010
Publications for Current Students
The annual college catalog contains admission requirements; information on student support services; the courses required for each PTC degree, certificate and diploma; the description for each credit course; and a list of full-time faculty and staff.
The student calendar & handbook is an essential document for all current PTC students. It lists important registration, financial aid, student life and administrative dates, and it details college policies on student organizations, grievance and appeals procedures, etc.