Gunsmithing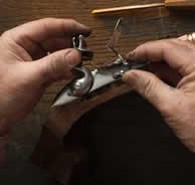 In Piedmont Technical College's Gunsmithing Program, you'll learn the skills you need to be a professional Gunsmith. The Gunsmithing program consists of an introductory and an advanced certificate, and is the only one of its kind in South Carolina.
Program Information
The introductory certificate is designed to introduce the novice gunsmith to the hand tools, blueprint reading skills, schematic understanding, basic machine tool operations and the nomenclature used in Gunsmithing.
The advanced certificate covers advanced metal finishing, custom barrel fitting, modern stock refurbishing and manufacture, rifle and shotgun trigger and firing mechanisms, and the design and function of handguns.
Both certificates include a variety of hands-on projects, offer real-world experience with gun repair and construction, and provide access to a well-equipped 6,000 square foot machine shop. 
Students completing the program will have gained the knowledge and confidence to set up a Gunsmithing shop or become employed by a company that requires this type of skill.
Acknowledgements
Piedmont Technical College would like to thank the following organizations for their generous support of our gunsmithing program: 
National Rifle Association
NRA Foundation
Brownells
Midway USA
FN Manufacturing
National Wild Turkey Federation
Hornady Ammunition
Charter Arms
Friends of NRA, Greenwood Chapter
South Carolina Arms Collector Association
Blue Press Publishing
Mark Novack inc.
Hunters Headquarters
Montana Rifle Company
ER Shaw Barrel Company
Hogue Stocks
MJT Customs
Doug Turnbull Mfg.
Locations: