PTC Golf Classic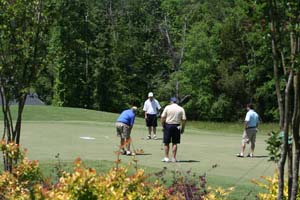 Join the Piedmont Technical College Foundation and its partners, The Links at Stoney Point, CC&M, Emerald Ink & Stitches, Fujifilm, Laurens County Water & Sewer, Self Regional Healthcare, LS3P Architecture, Laurens Electric, McMillan Pazdan Smith Architecture, Strata Information Group, Velux Greenwood Inc., Carolina Health Centers, Eaton Corporation, Greenwood Regional Rehab Hospital, Manning Law Firm, Piedmont Rural Telephone, Seamon Whiteside & Associates, Manley Garvin, LLC, Newberry County Memorial Hospital, Carolina Training Associates, Carolina Pride, David A. Crotts & Associates, Digestive Disease Group, Lakeland Home Builders Association, United Community Bank, Franks' Car Wash, The Magnet Group, Ro-Mac Trophies & Signs, George Piersol State Farm, HH Turner Jewelry and Gary Russ Greenwood at The Links at Stoney Point for the 25th Annual Piedmont Technical College Golf Classic.
This year's event will be a Four Person Captain's Choice (scramble format). This format will have flights based upon team handicaps and will feature two shotgun starts at 8:30 AM and 1:45 PM. To reserve your team's spot, please complete the registration form and return it with full payment to:
The Piedmont Technical College Foundation
P.O. Box 1467
Greenwood, SC 29648-1467
We will take reservations on a first come, first served basis only; an entry fee must accompany this form to "hold" spots. Please call (864) 941-8351 for more information.
Entry fee is $100 per person ($400/team) and includes lunch and range balls. For an additional $25, players will receive a special prize package consisting of three mulligans (a shot anywhere, a red tee, and a putting mulligan), and an opportunity to participate in putting and driving contests. The winner of the putting contest will win $2,500 cash while the prize for the driving competition is yet to be determined. To simplify registration on tournament day, you may add the prize package fee to your entry fee and mail with the registration form.
For sponsorship opportunities, click here.