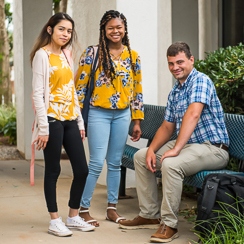 Student activities are generally a lot of fun, but there are many other important reasons to consider becoming active on campus.
Whether you'd like to become a student leader, work on community projects, network with people in your field, or just meet people with common interests, there's an organization at PTC for you. 
Browse the links below to see how you can get involved.
All club activities must have approval. Click here for the Activity Approval Form.
>>Handbook for Student Organizations
Student Organizations @ PTC
There are a number of departmental Clubs at PTC that you can participate in to build closer connections to your peers and your faculty members.
Honors societies at PTC recognize excellence in the classroom and beyond and demonstrate excellence, both academically and to potential employers.
There are also specific interest groups that you can participate in, from the Christian Student Union to the Presidential Ambassadors.