In today's busy world, it is easy to overlook you own happiness and mental health, even if you don't mean to. But by taking steps to slow down, recharge and live more mindfully, it is possible to nurture your mind, body and spirit in small ways every day. Below is some information to help you "be kind to your mind."
Positive Affirmations
Affirmations are inspirational statements that challenge you to overcome self-sabotaging and negative thoughts.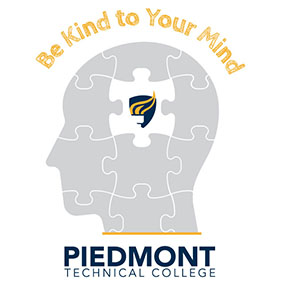 I create my own happiness
My life is filled with abundance of goodness
Today I'm going to be my best self
I am enough
I am confident
All I need is within me right now
I am getting better and better every day
I am not defined by my past; I am driven by my future
I am healing and strengthening every day
I feed my spirit. I train my body. I focus my mind. 
This is my time!
PTC Counseling and Support (BHS)
Piedmont Technical College's Student Assistance Plan services are a free school-sponsored benefit that provide you with an easily accessible, safe and highly confidential means to assist with any of life's challenges and personal problems that may interfere with school, work or family responsibilities. You will have access to confidential assistance to manage life's challenges and stay happy, healthy and safe while in college. 
Contact BHS by calling 800-327-2251.
Student Portal (User Name: PTC SAP)
Self-Love

Look After Your Body and Brain

Self-Care Tips

Coping Skills

Relaxation Exercises

1-Moment Meditation

PTC Counseling Resources

Community Resources

Hotline resources: Call or text 988 to talk with someone if you or someone you know is in a crisis. https://www.samhsa.gov/find-help/988 

SC Mental Health information: http://osp.scdmh.org/get-help/
If you find yourself in need of immediate help, please don't hesitate to use one of the following hotlines: call or text 988 for the Suicide and Crisis Lifeline or call 1.833.364.2274 for DMH Mobile Crisis Team.