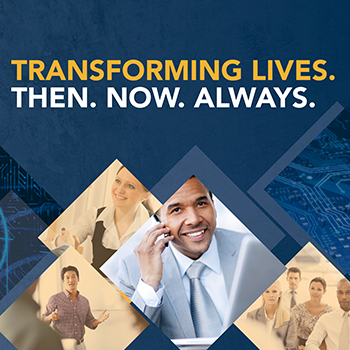 Many career paths are open to you at PTC, whether you're looking for a career in the classroom, or for something behind the scenes.
Come be a part of a team that is committed to student success where your contribution to the learning environment and community is both valued and recognized!
Career Opportunities
Most people think of teaching when they think of jobs at a college, but there are many other positions necessary to make an institution like ours function.
Here's a sample of the opportunities available at PTC:
Accounting
Information Technology
Facilities Management
Human Resources
Student Development
Instructors
Start an Application
Piedmont Technical College posts all vacancies, full and part-time, at careers.sc.gov. Applications are only accepted through the SC State E-recruitment system referenced above and all application procedures must be followed in order for an application to be considered. We do not accept paper applications, emailed applications, or faxed applications for any vacancies. We emphasize that any application or related documents, other than those submitted online, will not be accepted, reviewed or responded to.
We regret that due to the volume of applications we receive, we are unable to respond to candidates individually regarding the status of their application or the status of the interview process.
Application Procedure
Use the following resources to submit your application
Create a Profile

Applicants must create a profile on the SC State E-recruitment system page at careers.sc.gov. Search for Piedmont Technical College.

Submit Your Application

Applicants must create a profile on the SC State E-recruitment system page at careers.sc.gov. Search for Piedmont Technical College. Qualified applicants must then submit the online State of SC Employment Application along with relevant attachments in order to be considered for a position. If a candidate does not meet the minimum job requirements, they will not be considered for the position. A resume may NOT be substituted for the online application, however, applicants MUST attach to their application:

a cover letter
a current resume
digital copies of official or unofficial transcripts

Submit Any Necessary Transcripts

For all faculty and some staff positions, copies of transcripts will need to be reviewed to assess qualification, so it is very important to include them with the application. If the candidate is called for an interview, copies of transcripts will be required. Official transcripts will only be required if hired.

Other Application Details

A separate application must be submitted for each position of interest. The Human Resources Office does not keep applications and/or résumés on file for future vacancies. By creating a profile, an applicant will easily be able to apply for multiple positions with the readily available saved application and attachments on the profile.
Online applications will be accepted until 11:59 p.m. on the deadline of the vacancy if a deadline is posted. Otherwise, online applications will be accepted until a top candidate is selected, at which point the vacancy will close. Vacancies will be posted for at least 5 days. Applications will not be accepted after a position has closed unless it reopens at a later time.
Criminal background checks will be conducted on applicants selected for employment.
Piedmont Technical College is an E-verify participating employer.

Benefits and Perks

Piedmont Technical College offers a very attractive benefits package, including:

Health, Vision and Dental Insurance
Annual Leave, Holidays and Sick Leave
Retirement System
Professional Development and Tuition Reimbursement
Life Insurance and Long Term Disability
Onsite Workout Facilities

Interview and Hiring Process

Upon the completion of reviewing all of the applicants, the hiring official will contact the top candidates to schedule an interview using the contact information provided on the application. The interview panel will interview all top candidates and make the selection of the final candidate to recommend for hire. In some instances the candidate may be required to participate in a 2nd round of interviews. References are conducted electronically. The final top candidate will be contacted with a verbal offer of employment.
Contact Us
Please call the Human Resources Office at 864-941-8726 during regular office hours if you have questions regarding employment procedures. Thank you for your interest in joining the team at Piedmont Technical College.
College Profile
Piedmont Technical College is a leader in technical education in South Carolina, and is dedicated to making the advantages of a quality college education available to everyone. We are a student-focused organization committed to making a difference in our community.
We enroll more than 6,000 credit students each academic year.
PTC has more than 260 full-time employees.
Our student body is extremely diverse. Age ranges from 17 years old to 60+. The most common age is 19. We educate a representative cross-section of our community — from high school students earning college credit, to students training for rewarding careers.
We serve seven counties in South Carolina — Abbeville, Edgefield, Greenwood, Laurens, McCormick, Newberry, and Saluda. This is the largest geographic area of any technical college.
Piedmont Technical College is an Equal Opportunity/Affirmative Action Employer and does not discriminate against any individual or group of individuals on the basis of age, color, disability, gender, national origin, race, religion, sexual orientation, or veteran status.
Employee and applicant inquiries concerning the federal laws and their application to the College may be directed to the College's Affirmative Action/Equal Opportunity Officer, the Vice President of Human Resources, Alesia Brown, PTC, PO Box 1467, Greenwood, SC 29648, 864-941-8611, who serves as the College's Section 504, Title II, and Title IX Coordinator.
Veterans Preference Statement: South Carolina is making our veterans a priority for employment in state agencies and institutions. Click here for eligibility requirements.
Student and prospective student inquiries concerning the federal laws and their application to the College or any student decision may be directed to the Office of Student Affairs, PTC, PO Box 1467, Greenwood, SC 29648, 864-941-8359.
Pursuant to section 41-1-110 of the Code of Laws of S.C., as amended, the language used in this document does not create an employment contract between the employee and the college.