The Call Me MISTER program at PTC, in partnership with Clemson University is designed to increase the number of black male educators in our region's classrooms.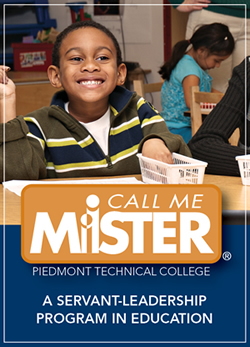 It's about giving you the tools to make a positive change in your community by becoming a leader in the classroom.
For more information on Call Me Mister, contact Steve Coleman at (864) 941-8603 or coleman.s@ptc.edu
What is Call Me MISTER?
The mission of the Call Me MISTER national initiative is to increase the pool of available teachers from diverse cultures and backgrounds to serve in economically disadvantaged and educationally at-risk communities. The program seeks to help build a more diverse group of educators by providing academic, social and financial support to under-represented individuals interested in entering the classroom. 
How it Works
After earning an associate degree at Piedmont Technical College, you'll be able to transfer to a participating four-year institution to major in early childhood education, elementary education, music, art or physical education for grades K-12.
PTC works in partnership with other colleges and universities in South Carolina to support the Call Me MISTER program. The participating four-year institutions are:  
Anderson University
Benedict College
Claflin University
Clemson University
College of Charleston
Coastal Carolina University
Lander University
Morris College
Newberry College
South Carolina State University
Southern Wesleyan University
University of South Carolina – Beaufort.
Program Benefits
Students participating in the Call Me MISTER program receive
Academic coaching support to help ensure their success
A cohort system for social and cultural support.
Personalized assistance with transfer, and with selecting the right four-year institution for you.
In addition, starting your studies at PTC will save you a significant amount.
Qualifications
To qualify for the Call Me MISTER program at Piedmont Technical College, you must major in Associate in Arts or Associate in Science and enroll in curriculum-level courses, and attain a minimum GPA of 2.5 before transferring.