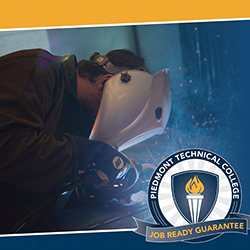 We Stand Behind Our Graduates
The Piedmont Technical College Job-Ready Guarantee demonstrates the college's long-standing commitment to providing students in technical programs with the right training for today's jobs. Through the guarantee, PTC students can be confident that they are entering the workforce with the right skill set. The program also shows employers that our graduates have the necessary training to succeed in the job, from day one.
Good for one year immediately after a student's graduation date, the Job-Ready Guarantee covers retraining at no cost to the graduate or employer.
Job-Ready Guarantee FAQ
What is it?

The Job-Ready Guarantee represents Piedmont Technical College's ongoing promise to provide relevant, quality training through our technical programs. It gives students the confidence to enter the workforce knowing the training they receive with us is designed to fit their new career. It also shows employers that graduates have the necessary skills to successfully perform the job they have been hired to do.

What does the Job-Ready Guarantee Cover?

The Job-Ready Guarantee allows for retraining if a graduate is unable to perform one or more of the competencies identified in the program student learning outcomes and course objectives for their completed program. Retraining will be provided at no cost to the graduate or employer.

Who is eligible for the Job-Ready Guarantee?

Graduates who have completed a Piedmont Technical College A.A.S. degree, technical certificate or diploma program are eligible within a year of completion.

How long is the Job-Ready Guarantee Available?

The Job-Ready Guarantee is valid for one year immediately following the student's graduation/completion date.

How is a claim redeemed?

A claim against the Job-Ready Guarantee may be filed by an employer in conjunction with a graduate. Following eligibility verification, a retraining plan will be established in coordination with the student, employer, and the college.

How is the Job-Ready Guarantee communicated to graduates?

Technical program graduates receive a guarantee card with their diploma.