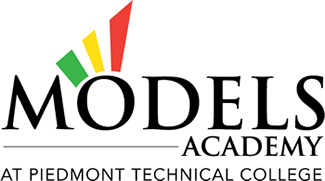 MODELS Academy is a holistic mentoring and personal development program that addresses the social, academic, career and cultural development of African American males in grades 4-12. 
Members of MODELS Academy are prepared to become mentors, advocates, and role models for the youth within their communities.
In order to facilitate a successful transition into careers, and into roles of leadership within the community, the program provides a holistic curriculum designed around career exploration, academic preparation and college readiness, personal growth and community service.
For more information on MODELS Academy, contact Steve Coleman at (864) 941-8603 or coleman.s@ptc.edu
MODELS Academy Application Form
Mission

The mission of MODELS Academy is to TRANSFORM THE LIVES of young African American men. To inspire, educate, inform, motivate, train and prepare Black males, grooming them into exceptional individuals, role models and leaders.

This program fits solidly within the college's mission to transform lives and strengthen communities by providing opportunities for intellectual and economic growth.

Core Beliefs

MODELS Academy believes that there is an abundance of talented young African American men in our community.
MODELS Academy will support and work with them to achieve personal, social and academic success.
MODELS Academy is committed to identifying and working with young black men by providing them with co-curricular learning experiences to equip them with the skills necessary for their development as future leaders.

Program Emphases

Guide African American male participants in establishing a clear and realistic understanding of social, cultural and educational issues affecting their personal and professional development
Coach, mentor, and direct African American male participants along paths of self-exploration, improvement, and development, resulting in discoveries of creativity and a desire to excel.
Increase participants' expectations, academic skills and confidence in self, family, community and their education system.
Personal and Social Development initiatives promote exploration of knowledge of self, culture, history
Leadership, Mentoring and Team Building activities provide support and builds on the foundation of promoting academic achievement, leadership and team building.
Community Service involvement promotes community awareness and develops a commitment to community service
Career Exploration places emphasis on academic achievement, promoting awareness of diverse career opportunities and skills needed to pursue them
Academic Monitoring is a collaborative effort between staff, parents and participants to continually assess academic progress

Curriculum

MODELS Academy is an aggressive and comprehensive program. It will take potential and build on it! Participants will be challenged to perform academically, think critically, express opinions thoughtfully, debate professionally, present publicly, communicate consistently with peers and adults, use technology appropriately and strive to develop and improve themselves continuously.

As mentioned above, parental/guardian involvement is a requirement to be a part of the program. This involvement is a critical part of the support system these individuals will need to be successful, and we are up front with all applicants and their families about this. Family members are invited to all meetings, and to an annual gala dinner each year.

In addition to the benefit to the MODELS, the ancillary benefit of this level of involvement is that the parents and guardians are learning as much about career and college readiness as the MODELS are. In this way, we believe the direct impact of the program will be magnified by an increased understanding of Piedmont Technical College, and of college in general, by the community at large.

MODELS Academy is for SERIOUS individuals only. We are looking for individuals who are committed to:

Academic improvement
Attending program sessions
Actively participating
Helping others
Learning new behaviors and life skills
And becoming the absolute best he can be!