Early Care & Education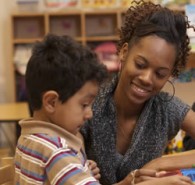 If you love working with children and you're interested in teaching, an Early Care and Education major may be right for you. Our NAEYC-accredited Early Care and Education program offers comprehensive training in the necessary skills required for implementing quality preschool programming.
Featured Profile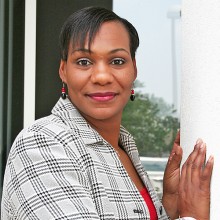 Graduation Date: May 2009
A mother of five children, Darlene Saxon of Greenwood always wanted to be a teacher. Little did she know how she would accomplish that goal.
You'll learn about growth and development principles; teaching methods and appropriate practices in language arts, creative experiences, math and science concepts; working with special needs children and much more. Your studies will help you develop an understanding of young children's social, emotional and mental development.
If you're headed toward a bachelor's degree in early childhood education, you can start with our Early Care and Education program and save on tuition. You can begin here and finish your education degree at the University of South Carolina, Lander University, Clemson University, Columbia College, Newberry College, USC Aiken and Southern Wesleyan University.
Career Information
Career Tracks
93% placement rate for 2014-2016 graduates
Employment of preschool teachers is expected to grow by 25% by 2020
Start work toward an Early Childhood Education Bachelor's degree. See our bridge/transfer agreements below.
Entry Level Positions
Childcare Center Director
Teacher's Assistant
Teacher or Associate Teacher in Child Development
Child Care Provider
Program Information
Bridge to a Bachelor's Degree
The Early Care and Education program has transfer agreements in place with:
Nationally Accredited Curriculum
The Early Care and Education program at Piedmont Tech is about more than day care—it's about teaching students how to effectively educate young children.
The Early Care and Education program was one of the first associate degree programs in the United States to be accredited through the National Association for the Education of Young Children (NAEYC), an organization dedicated to improving the well-being of all young children, with particular focus on the quality of educational and developmental services for all children from birth through age 8. 
Early Care and Education Graduate Outcomes

The T.E.A.C.H. Program: A Great Opportunity for Child Care Workers 
The T.E.A.C.H. program is a great way for people already working in child care to go back to school. In many cases the program allows people to continue their education at Piedmont Tech at no cost, and even to move on to a bachelor's degree program at little to no cost.
For individuals working a minimum number of hours per week in a child care program licensed or registered with the South Carolina Department of Social Service, the T.E.A.C.H. Early Childhood Project provides scholarships to complete course work in early childhood education courses toward the South Carolina Early Childhood Credential, a Certificate, a Diploma, or an Associate Degree in Early Childhood Education.  
For Current Students
Resources
Clubs & Organizations
The ECD Club is open to any student in the Early Care and Education program. For more information, go to the ECD Facebook page.
 
Locations:
Video