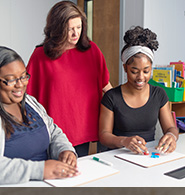 If you love working with children and you're interested in teaching, an Early Care and Education major may be right for you. The Early Care and Education program offers comprehensive training in the necessary skills required for implementing quality preschool programming.
Credentials offered
A Career in Early Care & Education
With a combination of classroom instruction and supervised hands-on experience, the program prepares students for direct entry into a variety of early care and education positions. It also provides students headed toward a bachelor's degree in education with a convenient, affordable way to get started. Plus the knowledge at PTC will transfer seamlessly to some of South Carolina's top education programs as you work toward teacher certification in South Carolina.
If you're headed toward a bachelor's degree in early childhood education, you can start with our Early Care and Education program and save on tuition. You can begin here and finish your education degree at the University of South Carolina, Lander University, Clemson University, Columbia College, Newberry College, USC Aiken or Southern Wesleyan University.
Career Quick Facts
Career Outlook

86% placement rate for 2020-2021 graduates
Employment of preschool teachers is expected to grow by 12% through 2026
Start work toward an Early Childhood Education Bachelor's degree.

Physical Demands

handling, lifting, carrying, and positioning of children manually into strollers, walkers, moveable cribs, high chairs, infant seats, and infant swings
intermittent sitting in adult and child size chairs,
sitting on the floor and rising from the floor
standing, walking, possibly running
frequent reaching and lifting, carrying, and bending
possible use of and exposure to antibacterial cleaning solutions, and exposure to weather elements
use of both hands to handle children and objects
use of both feet to move children and objects.

Entry Level Positions

Childcare Workers
Preschool Teachers
Childcare Center Directors

List of Employers

Recent graduates have found work at:

Abbeville County School District
ABC Academy
Aiken County Public Schools
Angels Child Development Center
Back to the Basics
Boundary Street Elementary School
Boys and Girls Clubs
Children's Courtyard
Clinton School District 56
Creative Kids
District 50 Early Childhood Center
Dowd's Child Care
Edgefield County School District 
Family YMCA of Greater Laurens
First Baptist Church
GLEAMNS - Head Start Program
Greenwood District 50
Greenwood District 51
Greenwood District 52
Kelly Miller Elementary School
Kiddy Korner
Kid's Korner
Kids 'N' Company
Kids Under Construction
Kids Unlimited Daycare
Kids World Ministry
Laurens County School District 55
Lifelong Learning
Little Angels Daycare
Little Folks Childcare
Little Lamb Daycare
McCormick School District
Millie's House Childcare
Mudpies
New Prospect Baptist Church
Newberry Academy
Newberry County School District
Park Place Children's Center
Pooh's Corner Daycare
Self Regional Healthcare
South Carolina Department of Social Services
South Main Street Baptist Church
Stepping Stones Learning Academy
Sunshine Barn Daycare
Sunshine House
The Children's Garden
Thornwell Home for Children
YMCA of Laurens
Young World
Virtual Tour
Program Information
The program offers two associate degrees: a major in Early Care and Education and a major in Early Care and Education with a concentration in Infant and Toddler Care. In addition there are two certificate programs designed for those who'd like to complete a credential more quickly.
Early Care and Education Graduate Outcomes
The T.E.A.C.H. Program: A Great Opportunity for Child Care Workers 
The T.E.A.C.H. program is a great way for people already working in child care to go back to school. In many cases the program allows people to continue their education at Piedmont Tech at no cost, and even to move on to a bachelor's degree program at little to no cost.
For individuals working a minimum number of hours per week in a child care program licensed or registered with the South Carolina Department of Social Service, the T.E.A.C.H. Early Childhood Project provides scholarships to complete course work in early childhood education courses toward the South Carolina Early Childhood Credential, a Certificate, a Diploma, or an Associate Degree in Early Childhood Education.  
Video