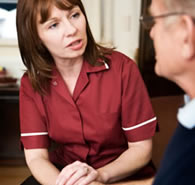 One of the helping professions, a Human Services degree will prepare you to provide a variety of services to clients to help them improve their quality of life. The focus is on prevention, remediation of problems, and maintaining a commitment to improving the overall quality of life of the populations served.
Credentials offered
Featured Stories
Sandy Anderson knows what it's like to be treated like a statistic. When she was 18 and seeking prenatal care, she overheard a doctor telling his staff that he didn't want to take Anderson as a patient because she was a teenager pregnant for the second time. He said she was just perpetuating a cycle. "I remember it like it was yesterday and how it made me feel," the Piedmont Technical College (PTC...
A Career in Human Services
Students are prepared to work with vulnerable populations in many different helping fields. You'll learn skills to work in the areas of advocacy, youth services, mental health, intellectual disabilities, addictions, aging, recreation, homelessness and abuse. As a Human Service practitioner you may also work with clients whose ages and problems vary. Your roles and responsibilities will vary depending on the agency.
Among career areas, community and social service occupations are growing faster than the average nationally. In fact, the U.S. Bureau of Labor Statistics projects that careers in the field will grow by 10 percent from 2014-2024. Many of the new jobs will be in health care and social assistance.
What Will I Do as an Employee Working in the Human Services Field?
A Human Services degree prepares you for a wide range of settings. Graduates from our program have found positions with job titles such as, case worker, community organizer, family support worker, alcohol counselor, halfway house counselor, activities assistant and more.
Depending on your Career Path, Some of your Responsibilities May Require you to:
Assist clients in need of counseling or crisis intervention
Administer food banks or emergency fuel programs
Assist adults who need supervision with personal hygiene and daily living tasks
Confer with medical professionals and other caregivers to provide insight into clients' needs
Work with psychologists, psychiatrists, social workers and others to help clients master everyday living skills, communicate more effectively and live well with others
Support a client's participation in a treatment plan
Career Quick Facts
Career Outlook

Median Salary Average: $28,180
SC Salary Range: $23,230-$43,730
80% placement rate for 2020-2021 graduates

Salary and career information from the U.S. Bureau of Labor Statistics.

Physical Demands

mildly active (some walking, standing)
fairly active (working with children: kneeling, crouching, sitting on floor)
light lifting (up to 20 lbs.)

Entry Level Positions

Social and Human Service Assistants
Mental Health Technician
Chemical Dependency Technician
Gerontology Activity Director
Residential Assistant

List of Employers

Recent graduates have found work at:

Abbeville County DSS
Abbeville Area Medical Center
Abbeville County School District
Abbeville County Sheriff's Department
Abbeville Nursing Home
Aiken Regional Medical Centers
Always Money Finance
Assisting Angels
Babcock Center
Beckman Center
Burton Center
Change Healthcare
Connie Maxwell Children's Home
Crossroads Pregnancy Center
Department of Social Services
E B Morse Elementary School
Edgefield County School District
Even Start Child Care Center
Faith Home Inc
Food Bank of Greenwood County
Guardian Ad Litem
GLEAMNS
Greenwood Active Day Center
Greenwood County Sheriff's Department
Greenwood Pathway House
Greenwood School District 50
Hickory Tickory Tots
John de la Howe School
Laurens County Disability and Special Needs Board
Laurens County One-Stop Workforce Center
Laurens County Safe Home
Laurens County School District 55
Lifetime Discoveries
March of Dimes
Marshall Pickens
McCormick School District
Meg's House Shelter for Abused Women
NHC
Palmetto Eye Care
Patrick B. Harris Psychiatric Hospital
Piedmont Agency on Aging
Piedmont Technical College
Saluda Nursing Center
Self Regional Healthcare
Sexual Trauma & Counseling Center
South Carolina Department of Public Safety
South Carolina Employment Security Commission
State Farm Insurance
Sunshine House
The Safe Home
Thornwell Home
Three Rivers Hospital
Wesley Commons
Westview Behavioral Health
Whitten Center
Program Information
The Human Services major is ideal for students considering a career in human services as well as for students who already have experience in human services.
Students new to the field will gain an excellent foundation in theory and practice related to human services and will have the opportunity to gain hands-on experience through field-based learning options. Students already experienced in human services can use and build upon their work experiences while acquiring new knowledge, skills and the direction needed to move into a new or more advanced position in the field.
Students will also complete two field placements, which provide the opportunity to work at a variety of service agencies in order to practice the skills they've learned under the supervision of professionals employed in the field.