Electronic Engineering Technology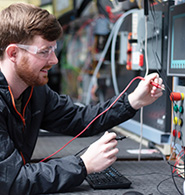 With electronic and computer circuits now being used in everything from the most complex industrial equipment to the simplest of household appliances, the engineering technician in this field is prepared to work in an extremely wide variety of businesses and industries.
Credentials offered
A Career in Electronic Engineering Technology
Electronic and computer circuits have become a very important part of our everyday lives. They're used in everything from the most complex industrial equipment to the simplest of household appliances. Because these circuits have become so widespread, electronic engineering technicians are prepared to work in an extremely wide variety of businesses and industries.
Technicians in this field are skilled in the operation, troubleshooting, calibration and repair of electronic instruments and systems found in process control, communications, computers, manufacturing, programmable logic controllers and microprocessors.
What will I do as an Electronic Engineering Technician?
Because of the scope of the program, graduates are not limited to one specific area of employment. Practical, hands-on experience on sophisticated electronic equipment provides students with the skills necessary to assist in the basic design, construction, analysis, modification, inspection and calibration of electronic circuits and systems.
After completing the program, you'll be qualified for positions like engineering technician, maintenance technician, electrician, electrical tester, product designer and cable technician. Advancement to positions in engineering or management is likely with experience and possibly further education.
Some of your responsibilities may require you to:
Work with a variety of engineering applications and programs
Test, calibrate and repair electrical instruments or testing equipment
Troubleshoot and fix technical design problems during the construction of electrical systems
Design basic circuitry and draft sketches to clarify design details
Install and maintain electrical control systems
Adjust and replace defective circuitry and electronic components
Career Quick Facts
Career Outlook

Median Salary Average: $58,790
SC Salary Range: $35,650-$93,920
100% placement rate for 2020-2021 graduates

Salary and career information from the U.S. Bureau of Labor Statistics.

Physical Demands

active (walking, standing, carrying)
occasional heavy lifting/usually less than 50 lbs.

Entry Level Positions

Electronics Technician
Maintenance Mechanic
Electrical Maintenance Technician
Engineering Assistant
Computer Test Technician

List of Employers

Some recent graduates have found work at:

Aiken Electrical Cooperative
Ascend
AT&T
Austin International
Baldor Electric Company
BMW Manufacturing Corp
Burnstein von Seelen Corporation Precision Casting
Cardinal Health
Carolina By Products
CCL Label
Ceramtec
CMS Industrial Technology
Colgate-Palmolive
Commissioners of Public Works
Digital Office
Dominion Energy
Duke Energy
Eaton Corporation
Flexible Technologies
Fuji Film
General Electric
Greenville Health System
Greenwood Fabricating & Plating, LLC
Greenwood Mills
Item Southeast
Kinard Control Systems
Komatsu
Lonza
Michelin
Michelin Laurens Proving Grounds
Milliken
Mungo Homes
New Horizon Electric Cooperative, Inc.
Norbord
Northland Cable
Palmetto Electrical
Piedmont Technical College
Prysmian
Trantech
Velux
Walmart Distribution Center
West Carolina Rural Telephone Incorporated, Inc.
ZF Transmissions
Virtual Tour
Program Information
You'll take a variety of courses focused on the different varieties of circuits, engineering technology applications, programming and other courses important to a strong foundation, such as algebra, trigonometry and physics.
Coursework includes: Engineering Technology Applications & Programming; Digital, D.C., A.C. and Electrical Circuits; Control Systems; Introduction to CAD; Data Communications; Programmable Controllers and Microprocessor Fundamentals.
All coursework is strongly application-oriented and includes hands-on labs and project experiences. Students who complete their Associate Degree in Electronic Engineering Technology can also transfer their credit hours toward USC Upstate's Engineering Technology Management B.S. program. The program allows students to complete up to 76 credit hours of the required 127 total credit hours at PTC.
This program is accredited by the Engineering Technology Accreditation Commission of ABET.
Video