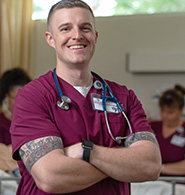 The nursing program enables students to become caring registered nurses or licensed practical nurses, committed to lifelong learning and service. The program provides students with knowledge, skills and attitudes needed to apply the nursing process to individuals and families across the life span in a variety of settings.
Featured Stories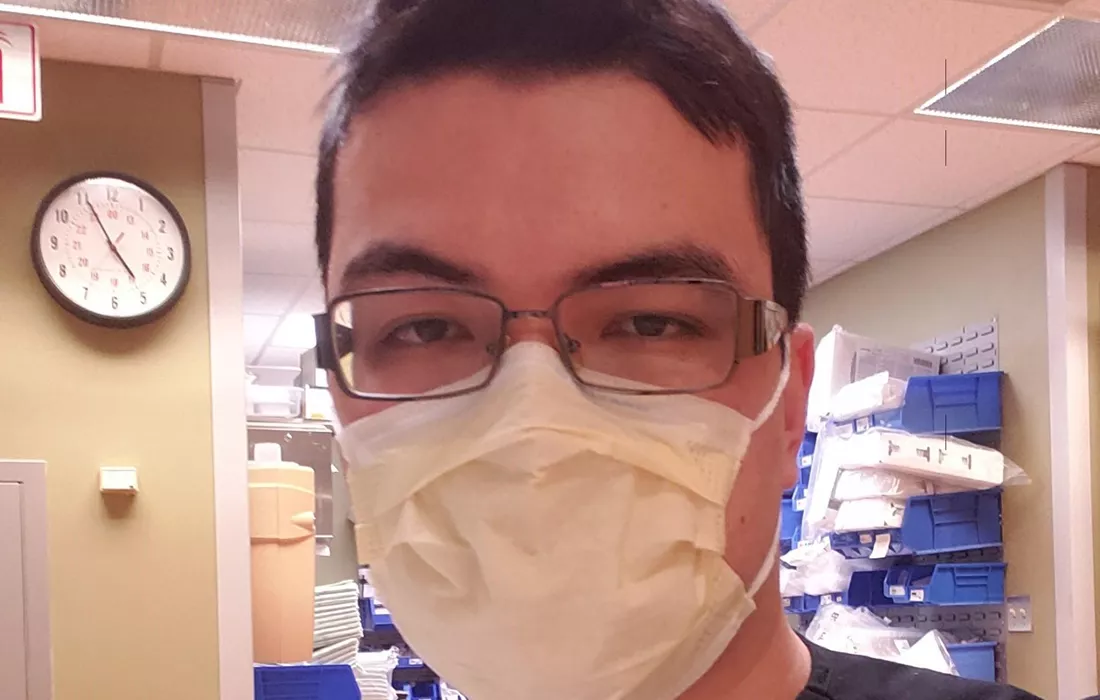 When Daniel Ngov (pronounced "Nōve") came to Piedmont Technical College (PTC) after years working as an artist in the video game industry, he had no idea where his journey would take him. Fast-forward to 2021, and today that destination is medical school. "Before I came to Piedmont Tech, I was an artist and never had taken a serious science class," Ngov said. "When I enrolled, I didn't know I...
A Career in Nursing
The programs at Piedmont Tech provide students with the knowledge, skills and aptitudes needed to apply the nursing process to individuals and families across the life span. Upon completion of the designated programs, students will be prepared to take their licensure examination. They will be ready to respond to changing health care demands in a variety of settings within the respective scopes of nursing practice.
With continued reports of a national shortage of nurses, there couldn't be a better time to enter this rewarding, high paying profession. According to the U.S. Bureau of Labor Statistics, employment for Registered Nurses and Licensed Practical Nurses is projected to increase over the next decade.
Special Application Requirements
The Nursing program has special program admission criteria which must be completed prior to applying for the clinical phase of the program. A student may be admitted to the college at any time in order to complete prerequisite and general education coursework.
Get started:
What Will I Do as a Nurse?
Graduates will assess or collect data about patient health problems and needs, develop and implement nursing care plans, and maintain medical records. You'll administer care to ill, injured, convalescent, or disabled patients and you may advise patients
on health maintenance and disease prevention or provide case management.
Licensing and registration is required to practice.
Some Job Duties May Include:
Administer medication
Assess the needs of individuals, families or communities to identify health problems
Consult with health care teams to assess, plan and implement patient care plans
Direct and supervise other health care personnel or supervise a particular unit
Monitor all aspects of patient care, including diet and physical activity
Provide health care, first aid, immunizations and assistance in convalescence and rehabilitation in locations such as schools, hospitals and industry
RN to BSN Options
Students earning an Associate in Applied Science with a major in Nursing (ADN) can transfer into bachelor's degree nursing or other health-related degree programs at Lander University, University of South Carolina at Aiken, University of South Carolina Upstate's Mary Black School of Nursing and Medical University of South Carolina (MUSC).
Career Quick Facts
Career Outlook

Registered Nurse

Median Salary Average: $60,860
SC Salary Range: $47,750-$77,030
94% placement rate for 2020-2021 graduates

Licensed Practical Nurse

Median Salary Average: $45,880
SC Salary Range: $34,370-$57,090
95% placement rate for 2020-2021 graduates

Salary and career information from the U.S. Bureau of Labor Statistics.

Physical Demands

active (much walking, standing, carrying)
lifting required (up to very heavy - 100+ lbs.)
good vision and hearing

Entry Level Positions

Associate Degree Nursing

Practical Nursing

Employers

Abbeville Area Medical Center
Abbeville County School District
Abbeville Home Health
Abbeville Nursing Center
Advanced Vascular Associates
Agape Community Center
Alpha Health & Rehab of Greer
Aiken Regional Medical Centers
AnMed Health
Ark Hospice
Ashley House
Athens Regional Medical Center
Augusta Dialysis Center
Augusta State Medical Prisons
Azalea Woods Nursing Home
Bailey Manor
Bayview Care Center
Brian Center Nursing Care
Bon Secours St. Francis Health System
Brookland Community Pediatrics
Brushy Creek Rehabilitation and Healthcare Center
Burke Medical Center
Burton Center
Carilion Franklin Memorial Hospital
Caris Healthcare
Carolina Center for Behavioral Health
Carolina Health Centers
Carolina Heart & Vascular Center
Charleston Memorial Hospital
Chester Regional Medical Center
Community Long Term Care
Covenant Dove
Davita Dialysis
Department of Corrections
Department of Social Services
Diamond Health and Rehab of Simpsonville
Dialysis Clinic Inc
Digestive Disease Group
Diversified Specialty Institute
Doctors Care
Doctors Hospital
Edgefield County Hospital
Elbert County Hospital
Ellen Sagar Nursing Home
Ellenburg Nursing Center
Family Health Care Center
Fellowship Health & Rehab
Fountain Inn Nursing & Rehab
GAMBRO Healthcare
G. Werber Bryan Psychiatric Hospital
Gentiva Home Health & Hospice
Georgia Health Sciences University (Georgia Regents University)
Greenville County Disabilities & Special Needs
Greenville Kidney Center
Greenwood Community Children's Center
Greenwood County EMS
Greenwood Detention Center
Greenwood Digestive Disease
Greenwood Eye Clinic
Greenwood Regional Rehabilitation Hospital
Greenwood Regional Rheumatology Center
Greenwood's Children Clinic
Health South Rehab Hospital
Heartland Health Care Center
Heritage at Lowman
Heritage Healthcare
Hillcrest Memorial Hospital
Home Health
Homestead Hospice
Hosanna Health and Rehab of Piedmont
Hospice
JF Hawkins Nursing Home
Johnston Health
Laurens County Health Care System (Now Prisma Health)
Laurens County Sheriff's Department
Laurens County Detention Center
Lexington Extended Care
Lexington Medical Center
Lovelace Family Medicine, P.A.
Lowman Home
Magnolia Manor
Martha Franks Baptist Retirement Center
Mary Black Memorial Hospital
McCormick Correctional Institution
McCormick Health Care
McCormick Family Practice
McDuffie Regional Medical Center
Medical Services of America
Memorial Home Care
Montgomery Center
Myrtle Beach Dialysis Center
Newberry County Hospital
Newberry Dialysis Center
Newberry Internal Medicine
NHC Clinton
NHC Greenwood
NHC Laurens
NHC North Augusta
North Carolina Specialty Hospital
Northside Hospital
Novant Health
Oakmont Nursing Home
Outpatient Surgery Center
Palmetto Pediatric Therapy
Pediatrics Batesburg-Leesville
Pepper Hill Rehab & Nursing Center
Petra Health & Rehab of McCormick LLC
Piedmont Health Group
Piedmont Internal Medicine
Presbyterian Home
Prisma
Providence Hospital
Pruitthealth
Regency Hospital
Richard M. Campbell Veterans Nursing Home
Richland Memorial Hospital
SC Department of Corrections
Saluda Nursing Center
Self Regional Healthcare
St. Francis Hospital
Stephens County Hospital
Summit Place Incorporated
Surgery Center of the Lakelands
The Haven in the Summit
The Heritage at Lowman
The Laurels of Hendersonville
Trenton Correctional Institution
Tuomey Healthcare System
Ty Cobb Healthcare
Tyger River Correctional Institution
Unihealth Post-Acute Care
University Hospital
UHS-Pruitt Corporation
Uptown Family Practice
VA Hospital in Augusta
WakeMed
Wallace Thompson Hospital
Walton Rehabilitation Health System
Wesley Commons
White Oak of York
White Oak Manor
Willow Creek Living Center
Whitten Center
Wills Memorial Hospital
Woodruff Manor
Program Information
PTC's program will prepare you to become a registered nurse or a licensed practical nurse, which are among the top ten health care occupations in the nation according to the U.S. Bureau of Labor Statistics.
Graduates from our associate degree program are also qualified to pursue their Bachelor of Science in Nursing (BSN). Our programs are approved by the South Carolina Board of Nursing and our Associate Degree Nursing (ADN) program is accredited by the Accreditation Commission for Education in Nursing (ACEN).
Video