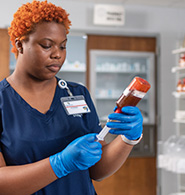 As a student in the Pharmacy Technician program at Piedmont Technical College, you'll learn about medications, their effects on the body, pharmacy chemistry, packaging and labeling. You'll spend time in the program's dedicated pharmacy lab before working rotations at actual pharmacies, in both hospital and drug store settings.
Credentials offered
A Career as a Pharmacy Technician
Pharmacy technicians assist licensed pharmacists by providing patients with medication and health care products. They have strong customer service skills and are able to multi-task in a fast-paced and demanding environment.
Through hands-on training and real-world experience, you'll learn exactly what health care institutions are looking for in this rapidly growing field, and you'll graduate fully prepared for a career as a pharmacy technician.
What Will I Do as a Pharmacy Technician?
Pharmacy technicians help licensed pharmacists dispense prescription medication. They work in retail pharmacies and hospitals.
Pharmacy technicians work under the supervision of pharmacists, who must review all prescriptions before they are given to patients. If a patient's question is about the medication or health matters, the pharmacy technician arranges for the customer to speak with the pharmacist.
Pharmacy technicians working in hospitals and other medical facilities prepare a greater variety of medications, such as intravenous medications.
Some Job Duties May Include:
Collect patient information needed to fill a prescription
Count tablets and measure amounts of other medication for prescriptions
Compound or mix medications, such as preparing ointments
Package and label prescriptions
Accept payment for prescriptions and process insurance claims
Do routine pharmacy tasks, such as answering phone calls from customers
Career Quick Facts
Career Outlook

Median Salary Average: $30,410
SC Salary Range: $21,910-$41,950
79% placement rate for 2020-2021 graduates

Salary and career information from the U.S. Bureau of Labor Statistics.

Physical Demands

much time spent standing
considerable stress during busy periods
may have to lift boxes weighing up to 20 lbs., retrieve supplies from high shelves using stepladder
some preparations require multiple hand washings, special clothing or other forms of protection

Entry Level Positions

Employers

Adair Apothecary
Bi-Lo
Carolina Community Pharmacy
Carolina Health Centers
CVS
Drug Lo
Food Lion
Fred's Pharmacy
Gilder & Weeks Pharmacy
Good Shepard Clinic
Harvey's Supermarket
K-Mart
Langston Place
Laurens County Heath Care System (Now Prisma Health)
Laurens Drug Company & Medical Equipment
Lexington Medical Center
Long's Drugs
Newberry County Memorial Hospital
Parkman's Pharmacy
Parrish Home Medical
Prosperity Drug Company
Publix Super Market
Rite Aid
Savitz Drug Store
Self Regional Healthcare
Strom's Drug Store
Target
Walgreens Drug Store
Wal-Mart
Wattsville Drug
West End Drugs
Wingard's Pharmacy
Virtual Tour
Program Information
In addition to the skills acquired to become a pharmacy technician, students will learn to read medication orders, mix medications, assemble unit doses of medications and prepare 24-hour patient medication carts. Students will also learn proper labeling for various types of medications.
In order to become a State Certified Pharmacy Technician, the student must earn the Pharmacy Technician diploma, work 1,000 hours as a registered pharmacy technician, and pass the Pharmacy Technician Certification Exam (PTCE) administered by the Pharmacy Technician Certification Board (PTCB).
The Pharmacy Technician program is accredited by the American Society of Health-System Pharmacists.
Pharmacy Technician Examination Data
Video