Pharmacy Technology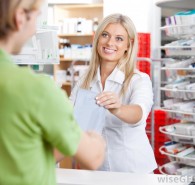 As a student in the Pharmacy Technology program at Piedmont Technical College, you'll learn about medications, their effects on the body, pharmacy chemistry, packaging and labeling. You'll spend time in the program's dedicated pharmacy lab before working rotations at actual pharmacies, in both hospital and drug store settings.
Career Information
Career Tracks
Salary average: $30,920 per year
86% placement rate 2014 - 2016 PTC graduates
Typical Duties
Perform technical tasks under direct supervision of a licensed pharmacist
Replenish and organize stock
Prepare batches of liquids and repackage bulk supplies
Restock nurses' stations
Fill hospital chart orders
Fill prescriptions
Program Information
Through hands-on learning and real-world experience, you'll learn exactly what healthcare institutions are looking for in this rapidly growing field, and you'll graduate fully prepared for a career as a pharmacy technician.
In order to become a state certified pharmacy technician, the student must earn the Pharmacy Technician diploma, work 1,000 hours as a registered pharmacy technician, and pass the Pharmacy Technician Certification Exam (PTCE).
The Pharmacy Technician program is accredited by the American Society of Health Systems Pharmacists.
About the Field
Pharmacy Technicians assist licensed pharmacists by providing patients with medication and healthcare products. They have strong customer services skills and are able to multi-task in a fast-paced and demanding environment. They work in retail pharmacies and hospitals.
Pharmacy technicians work under the supervision of pharmacists, who must review all prescriptions before they are given to patient. If a customer's question is about the medication or health matters, the pharmacy technician arranges for the customer to speak with the pharmacist.
Locations: