Radiologic Technology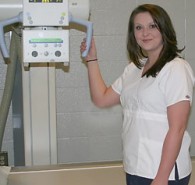 The Radiologic Technology curriculum is designed to assist students in acquiring the general and technical competencies necessary to enter the radiography profession. Radiographers use state of the art equipment to produce diagnostic medical images in a variety of health care settings.
Career Information
Career Tracks
Salary average: $58,960 per year according to the US Department of Labor.
88% placement rate for 2014-2016 grads.
Employment Outlook
Employment in hospitals and physicians' offices
Employment also possible in sales and research
Employment in cities and towns of all sizes
Program Information
Radiographers perform a wide variety of diagnostic x-ray procedures such as the examinations of the skeletal system, the chest and the abdomen. They administer contrast media to diagnose problems within the gastrointestinal (GI) tract and the genitourinary system. They also assist the radiologist during special procedures that examine the spinal cord and joint spaces. 
Radiologic technologists might also specialize in mammography. Mammographers use low-dose x-ray systems to produce images of the breast. Technologists may be certified in multiple specialties. Additional opportunities for specialization include computed tomography (CT), and magnetic resonance imaging (MRI). They may be called CT technologists or MRI technologists, depending on the equipment they work with. 
The constant growth in the field has created new and exciting career opportunities in specialty areas. Graduates of the Radiologic Technology program qualify to sit for the American Registry of Radiologic Technology.
Program Effectiveness Data
Locations:
Video