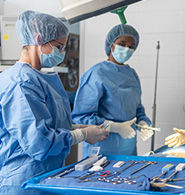 The surgical technology diploma program at Piedmont Technical College provides a hands-on surgery lab and two semesters of clinical experience to enable students to gain essential surgical skills. Students who complete the program are eligible to take the National Board Surgical Technology & Surgical Assisting (NBSTSA) Certification Exam and upon passing would become a certified surgical technologists.
Credentials offered
A Career in Surgical Technology
Surgical technologists are members of the operating team who work closely with surgeons, anesthesiologists, RN's and other personnel to deliver patient care before, during and after surgery.
Special Application Requirements
The Surgical Technology program has special program admission criteria which must be completed prior to applying for the clinical phase of the program. A student may be admitted to the college at any time in order to complete prerequisite and general education coursework.
What Will I Do as a Surgical Technologist?
Surgical technologists are allied health professionals who are an integral part of the team of medical practitioners providing surgical care to patients. Surgical technologists work under the supervision of a surgeon to facilitate the safe and effective conduct of invasive surgical procedures, ensuring that the operating room environment is safe, that equipment functions properly, and that the operative procedure is conducted under conditions that maximize patient safety.
Surgical technologists possess expertise in the theory and application of sterile and aseptic technique and combine the knowledge of human anatomy, surgical procedures, and implementation tools and technologies to facilitate a physician's performance of invasive therapeutic and diagnostic procedures.
Some Job Duties May Include:
Prepare operating rooms for surgery
Sterilize equipment and make sure that there are adequate supplies for surgery
Prepare patients for surgery, such as washing and disinfecting incision sites
Help surgeons and nurses during surgery by passing them instruments and other sterile supplies
Career Quick Facts
Career Outlook

Median Salary Average: $46,010
SC Salary Range: $36,620-$58,460
88% placement rate for 2020-2021 graduates

Salary and career information from the U.S. Bureau of Labor Statistics.

Physical Demands

active: much standing, moving about, carrying, walking
lifting up to 100 lbs.

Entry Level Positions

Employers

Abbeville Area Medical Center
Aiken Regional Medical Centers
AnMed Health
Carolina Vascular
Consultants in Gastroenterology
DHEC
Dr. Camille L. Mason
Duke University Hospital
Georgia Health Sciences University (Georgia Regents University)
Greenville Eyecare Associates
Greenville Oral Surgery
Greenwood Endoscopy Center
Greenwood Eye Clinic
Greenwood OB/GYN
Greenwood Podiatric Medical Associates
Greer Memorial Hospital
Lakelands Orthopedic Clinic
Laurens County Health Care System – (Now Prisma Health)
Lexington Medical Center
Mary Black Hospital
Medical College of Georgia
Montgomery Surgery & Laser
Newberry County Memorial Hospital
Newberry Dental Care
Outpatient Surgery Center at Self Regional Healthcare
Palmetto Gastroenterology and Hepatology, P.A.
Pardee Hospital
Peachtree Medical Center
Piedmont Cardiology
Piedmont Health Group
Piedmont Physicians for Women
Piedmont Plastic Surgery
Providence Hospital
Self Regional Healthcare
Spartanburg Regional Medical Center
St. Francis Health System
St. Mary's Hospital
Surgery & Laser Center
Turning Point Women's Center
University Hospital
Western Carolina & Oral Maxillofacial Surgery, P.A.
Virtual Tour
Program Information
The primary responsibility of surgical technologists is to maintain a sterile field by adhering to aseptic practice during a procedure. Through clinical and didactic instruction they learn to pass instruments, sutures and supplies during a procedure. They are taught to ensure the safety and wellbeing of all patients undergoing a surgical procedure.
Students who successfully complete the program are eligible to take the National Association of Surgical Technologists certification exam and upon passing would become certified surgical technologists.
The Surgical Technology program is accredited by the Commission on Accreditation of Allied Health Education Programs (CAAHEP).
Video