Surgical Technology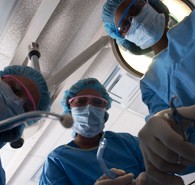 The surgical technology diploma program at Piedmont Technical College provides a hands-on surgery lab and three semesters of clinical experience to enable students to gain essential surgical skills. Students who complete the program are eligible to take the National Board Surgical Technology & Surgical Assisting Certification Exam and upon passing would become certified surgical technologists.
Career Information
Career Tracks
Entry level salary average: $27,676.00 per year
84% placement rate for the 2014-2016 graduates
Entry Level Positions
Medical salesperson
Organ procurement team member
Autologous Blood Collection System Operator
First assistant
Program Information
The surgical technologist is the person who stands alongside the surgeon and passes the instruments and supplies during surgical procedures.
Surgical technologists are key members of the operating team who work closely with surgeons, anaesthesiologists, RN's and other personnel to deliver patient care before, during and after surgery.
The Surgical Technology Program is fully accredited by the Commission on Accreditation of Allied Health Education Programs (CAAHEP).
Pass Rate
Graduates of the Surgical Technology program are awarded the credential of Certified Surgical Technologist (CST) upon the successful completion of National Board of Surgical Technology and Surgical Assisting Examination. The programs Pass Rate is:
2018 graduates: 16/17=94% pass rate
Locations: