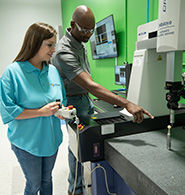 The skills taught in the machine tool program are in constant demand in our region, and all over the country. Graduates will find that their employment prospects are excellent. You'll get a full introduction to the field and practical experience in machining operations used in practically every manufacturing industry.
Featured Stories
As much as things change, they often also seem to stay the same. That can be said of the machine tool industry — even in the midst of digital advances and increased automation. Don Lytch has been teaching machine tool at Piedmont Technical College (PTC) for nine years and with the Greenwood School District 50 schools for 31 years before that. It can be a challenge to keep up with all the trends...
A Career in Machine Tool Technology
Modern manufacturing is a high-level, advanced industry requiring skilled and talented people. In fact, it's South Carolina's number two employment sector, paying wages well above the statewide average. These advances are clearly evident in the machine shop.
The program at Piedmont Technical College is well-respected by employers, and many of them serve on our advisory board, which helps determine what's taught in the program, so you'll have a competitive edge when you graduate.
The need for qualified machinists is increasing. According to the U.S. Bureau of Labor Statistics, this field is projected to grow by 10 percent from 2014-2024, which is faster than the national average.
What Will I Do as a Machine Tool Graduate?
Today, most machine shops are clean, well-lit and ventilated. In fact, most modern CNC machines are partially or totally enclosed, minimizing the exposure of workers to noise, debris and the lubricants used to cool work pieces during machining.
Machinists are highly skilled operators of machine tools that fabricate parts from a wide variety of materials. Working from blueprints, sketches or their own designs, these technicians produce precision parts with extremely close tolerances.
Some of your responsibilities may require you to:
Work with blueprints, sketches or computer-aided design and manufacturing files
Align, secure and adjust cutting tools and work pieces
Turn, mill, drill, shape and grind machine parts to specifications
Remove and replace dull cutting tools
Document production numbers in a computer database
Test and compare finished work pieces to specifications
Develop computer programs to control machining or processing of metal or plastic parts
Career Quick Facts
Career Outlook

Median Salary Average: $37,750
SC Salary Range: $28,570 - $48,340
100% placement rate for 2020-2021 graduates

Salary and career information from the U.S. Bureau of Labor Statistics.

Physical Demands

active: walking, carrying, standing
lifting to 70 lbs.

Entry Level Positions

Machinist
CNC Operator
Shop Foreman
More ...

List of Employers

Recent graduates have found work at:

Alpha Manufacturing Company
Alupress
Anderson Metals
Apex Tool Group
AstenJohnson
BF Goodrich
BMW
Burnstein von Seelen Corporation
Callen Die Casting LCC
Cardinal Health
Center Manufacturing SC, Inc (Mayville Engineering, Inc.)
Ceramtec
Colgate-Palmolive
Crown Casting
East Teak Lumber Company
Eaton Electric
Eaton Hydraulics
Elite Tool & Design
Emerald Technical Services
Finney Impression Die Corporation
Flexible Technologies
FN Manufacturing
Gallman Welding
General Electric
Geometric Tool & Machine Company
Georgia-Pacific
Goodrich Corporation
Greenwood Fabricating and Plating
H&L Accessory
Hartness International
Itron
Kaiser Aluminum
Komatsu
Lanford Welding and Mechanical Inc.
Laurens Tool, Inc.
Lonza
McKechnie
Metal Skills
Mundy Companies (Austin Industrial)
Nasmyth Precision Products
Piedmont CMG
Piedmont Plastics
Precision Plus
Precorp
Red Line Machining
Red Seal Measurement
Shaw Industries
Solutia
Springs Industries
Tenneco Automotive
Timken
Ware Shoals Machine Shop
Ware Shoals Plastics
ZF Transmissions
Program Information
Piedmont Technical College offers several pathways to a career in Machine Tool Technology. Students in the associate degree program get a full introduction to the field, along with practical experience in machining operations used in nearly every manufacturing industry. Those pursuing the diploma will receive a primary specialty in machining in just one year.
The program also offers certificates in Computerized Numeric Control and Precision Metrology to help existing machinists hone or update their machining skills. A Machine Tool Operator certificate is also available for those who wish to gain basic machining skills without being enrolled in a full-time degree program.
Graduates will be prepared for entry-level jobs as a CNC machinist, CNC programmer, manual machinist or quality control and inspection specialist.
Video