Machine Tool Technology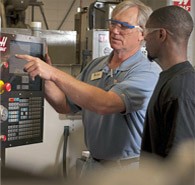 The skills taught in the machine tool program are in constant demand in our region, and all over the country. Graduates will find that their employment prospects are excellent. You'll get a full introduction to the field and practical experience in machining operations used in practically every manufacturing industry.
Featured Profile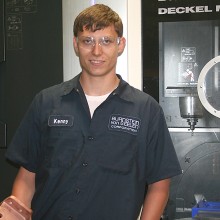 Graduation Date: May 2012
Kenny Price had his foot in the door with Burnstein von Seelen even before he completed his machine tool technology degree at Piedmont Technical College. The Abbeville company took Price on as an apprentice in the Tool and Die division, which has now led to a full-time position with the company.
Career Information
Career Tracks:
100% placement rater for 2014-2016 graduates
Regional Salary Range: $22,000-$55,000
Further education generally ensures higher salary
Entry Level Positions:
Machinist
CNC operator
Shop foreman
More...
Program Information
A machinist can take raw materials and produce a specialized finished product or item through knowledge that is a combination of theoretical information and hands-on experience. With practical experience in bench work, floor work, assembly layout, selected milling machine operations, lathe, shaper, drill press, computer numerical control programming and machining, machine tool maintenance and inspection, you'll be prepared to handle a wide range of responsibilities in the metalworking industry.
Machinists have an understanding of blueprint reading and schematics, a knowledge of measurement techniques, and the skills required to operate  various types of machinery that will take a part from raw material to a finished product.
These machines can include manually operated machines like lathes, drill presses, milling machines, or grinders, and can progress into what's called CNC technology, which means "computer numerically controlled".
CNC programmers can write the programs that are used by advanced machines to design a part. When the program is entered into a computer, the computer will tell the machine how to make the part. This is new, up-to-date technology used by virtually every advanced manufacturing company in the world today.
Locations:
More Photos
Video