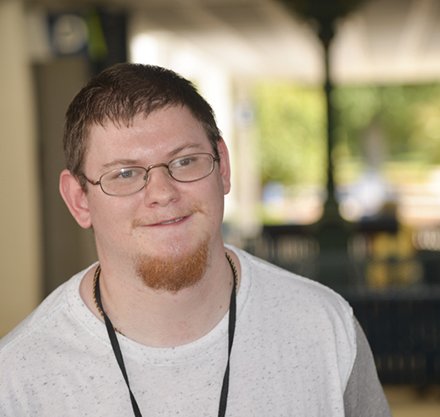 Attitude is Everything for PTC Student Living with Cerebral Palsy
August 15, 2018
Dillon Greenway is only 21, but he's already had a lot of work done.
By "work," Greenway refers to the many surgeries he's endured over his young life to manage physical difficulties presented by cerebral palsy (CP). The Piedmont Technical College (PTC) student is pretty recognizable on campus, partly because of the rolling walker that he uses to help him get around, but mostly by the sunshine that seems to follow him in attitude and spirit.
"I have had a lot of work done. I'm no stranger to the knife," he quipped. "My muscles don't respond like most people's do. It can be hard to walk." Greenway explained that CP occurs across a wide spectrum and mostly affects the limbs and trunk, making them extremely stiff, which makes moving difficult. Some with CP suffer from disabling paralysis, while others, may have less difficulty.
This fall, Greenway will transfer to Lander University to work on a baccalaureate in history with teacher certification. His goal is to teach history in Greenwood-area schools someday.
Greenway already has established his own history of good work habits. "I am consumed by my work," he said. "I spend a lot of time in the library. It's a great way to get studying done after class."
In his free time, Greenway enjoys hunting, fishing, playing video games and attending services at NewSpring Church, where he sometimes volunteers with a youth group. He also loves animation of all kinds. "I am an animation geek," he said with a laugh.
PTC's Lex Walters Campus-Greenwood is fairly easy to navigate from a rolling perspective. Greenway said that most heavy doors have buttons so they open wide automatically, and there are ramps or elevators where he needs them. Now if only there were a kiosk to crank out his written assignments.
"Writing papers is difficult for me. It takes me a while," he said. "My teachers will tell you that I may not get it done the quickest, but I at least try my best and make good solid grades."
A self-described extrovert, Greenway traverses the campus with an upbeat demeanor and always maintains a cheerful disposition. 
"The best thing about Piedmont Tech is that everyone is friendly, and the teachers are really accessible," he said, adding that his PTC instructors have reasonable office hours and will go out of their way to be available. "Sometimes they will see me even if I arrive a few minutes after their posted hours. They will absolutely work with you."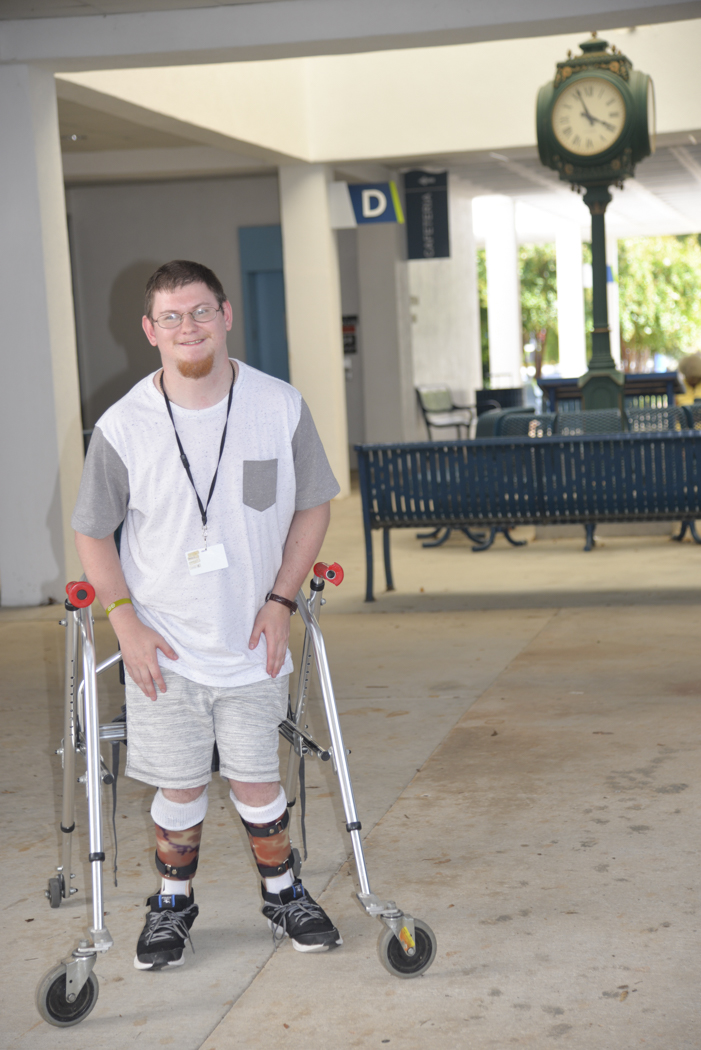 Greenway can't praise the faculty at PTC enough.
"I definitely would recommend PTC to others," he said. "I would advise them that if they want help, don't just sit on the sidelines. Ask questions and pay attention. Find out when your teachers will be in their offices. Go see them. They will be happy to help you."