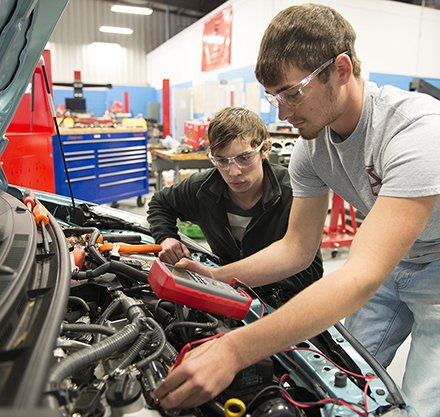 Automotive Tech Program Receives Coveted Accreditation
June 25, 2018
Piedmont Technical College's Automotive Technology program has received its industry's highest possible endorsement for training quality ― official accreditation from the National Automotive Technicians Education Foundation (NATEF). NATEF vigorously examines secondary and post-secondary technician training programs to assess how they compare with nationally recognized standards of quality. After conducting its evaluation, NATEF recommended PTC for Automotive Service Excellence (ASE) certification. Departments of education in all 50 states support ASE certification of automotive programs to ensure that training programs meet or exceed industry-recognized standards of excellence.
"This has been a long process and huge investment for our department and the college," said Gerald Sartin, PTC automotive technology program director and instructor. "We are very proud of completing this process and being able to meet the high standards required by ASE and NATEF."
The term of this accreditation is five years, with a required self-evaluation after two and a half years. Onsite reviews to retain accreditation are conducted every five years.
"We want to let everyone know that students can come to Piedmont Tech and receive ― at a minimum ― the same or better education and recognition as other technical colleges in the state," Sartin said.
Perhaps the most compelling result of this accreditation, Sartin noted, is that students who receive their training from an ASE-certified institution are more likely to be invited for a job interview and more likely to be employed on the merits of the certification alone. "It definitely gives them a competitive advantage," he said.