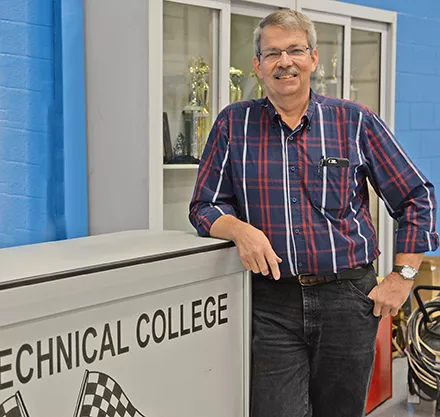 Automotive Technology Instructor an Old Car Guy with New Ideas
While his email address says he's an Old Car Guy, Don Gaskin has some new ideas for the automotive technology program at Piedmont Technical College.  
Gaskin grew up tinkering with cars. When he graduated from high school in 1974, he went to work, thinking he didn't need a college education to get a good job. But after training the third person in five years who became his supervisor, he knew he needed to move on to something more fulfilling.
Gaskin went to work at a local auto repair shop briefly, and then moved on to a local GM dealership. He continued to work at several automotive careers, obtaining several certifications including being Master ASE certified and an ASE certified Master Engine Machinist. He also received several certifications from General Motors, but couldn't find his fit.
In 1991, Gaskin took a job teaching automotive technology at Orangeburg-Calhoun Technical College, simultaneously earning his associate degree from OCTC. And that was where he was meant to be.
"If you have an itch to teach, there's really no cure except to start teaching," Gaskin said.
Gaskin spent 22 years at OCTC as a program director and instructor. He needed a break, but it didn't take long for him to realize he wasn't happy outside the classroom. He returned to teaching at West Georgia Technical College in LaGrange, Ga., but after two years, the distance from his home in Lexington was too much. He left teaching again and went to work at a friend's Mercedes/BMW/Audi repair shop as the service director.
"Again, that desire to teach started rearing its head," Gaskin said.
That's when Gaskin came to Piedmont Tech.
"I've worked at two other colleges, a high school and several other jobs and I have never seen a program receive as much support as the one here at Piedmont Tech," Gaskin said.
Having the support, though, doesn't mean Gaskin doesn't have plans for improving the program.
"We have a very aggressive plan for recruitment of students into the program," he said. "I would love to see the creation of a transportation technology division that not only offers automotive technology, but paint and body. And even expand to technicians who do specialized repairs at those paint and body shops."
The advanced technology of today's automobiles fascinates Gaskin, but he sees it as an opportunity for graduates of the program.
"The technology is changing faster than you can imagine," he said. "But, I don't care what kind of technology you use – electric, hybrid, gasoline, propane – stuff is still going to break and technicians will be needed."
For more information on the automotive technology program, call (864) 941-8498 or visit www.ptc.edu/automotive.