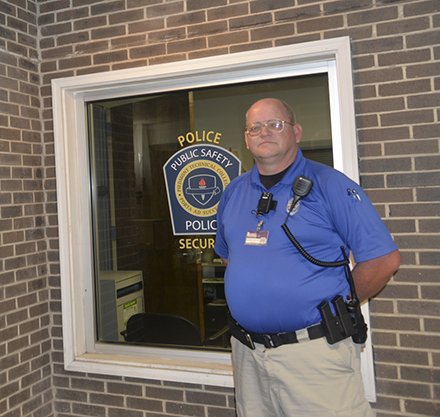 Campus Safety is a Team Effort
June 27, 2018
Piedmont Tech Campus Security Officer Dan Fancote can knead pastry dough as handily as he can do CPR chest compressions. A 14-year veteran of PTC's security force, Fancote once attended culinary school, where he specialized in pastries. He loves his job and absolutely feels it's a really good day when the culinary treats he occasionally brings to work disappear quickly ― and no one on campus needs first aid.
Fancote created a favorite truffle pie one day when he had more truffle filling than he had truffles to fill. So he decided to put the filling into a pie, and truffle pie was invented. "When I make it, I have to make seven or eight pies; they last about two weeks," he said. "Everyone loves them."
Another specialty Fancote sometimes brings in for his coworkers is a Korean treat called Lumpia. It's sort of like a spring roll except, instead of being packed with vegetables, it is filled more heavily with meat. It's by far the most popular of dishes among his buddies in the department. "They are a good snack food," he said. "They go pretty fast."
June is National Safety Month, and Fancote wastes no time getting to the finer points of staying safe on campus. Everyone in campus security, not just Fancote, is trained in first aid and CPR. Of particular importance for a successful safety program is open communication. Fancote generally sends a blast email alert if severe weather is imminent or the campus alarm system is being tested. Technology has enabled campus security to override TV screens and computers with urgent warnings if need be.
"I try not to overload people with messages. I send only what I think are the relevant alerts," he explained. "I don't want people to be complacent. They do need to pay attention."
Fancote says campus security is always working to improve its communication systems. People are able to opt-out of emails if they so desire. The department hopes to add blast texting capabilities soon.
"If you have your cell phone information in Banner, you will receive messages," Fancote said. "I strongly recommend that you keep your information up to date (in Banner) so that, if and when something happens, we have a way to notify you."
While the likelihood of a dreaded active shooter scenario is very remote, officers train and drill every year for all kinds of emergency situations.
Fancote wants everyone on campus to be aware that every building has an evacuation plan posted in plain sight. The plan includes a basic layout of the building, so if someone needed to shelter in place, they could identify the safest interior rooms to seek out. "And always know your exits," he said.
With regard to more basic day-to-day safety, Fancote has these basic tips for the summer months:
Stay hydrated. Campus police acknowledge that people can get overheated and forget to drink water. Don't let that become a medical emergency.
Be aware of your surroundings. Wildlife is more active during the summer. Over the years, Fancote has seen the occasional fox, raccoon, snake, and even a bear on or near campus. The same advice applies to parking lots and walking to your car. The department is happy to escort anyone who doesn't feel completely safe.
If you see something, say something.
"We really stress, if you see something, say something. Report it," he said. "We have officers onsite all the time, 24/7." The emergency extension for campus security is 864-941-8000. There's also an anonymous tip line at 864-941-8745. The security office is located in the F Building, room 109F.
Named South Carolina Public Safety Officer of the Year in 2012, Fancote remains humble and redirects all credit to the security team as a whole. Serving on the team has become a family affair. Fancote's son, Dusty, joined the campus security staff two years ago.
"I like working in a family environment, and Piedmont Tech is a family environment," said Fancote, who has six children and eight grandchildren. He and his wife, Christina, live in Hodges. "I always want to be out in the middle of everything. I like to talk to people."
Fancote passionately feels that everyone on the PTC campus should feel safe at all times.
"We try to be visible all the time. But even if you don't see us, there is a good chance we are somewhere close by," he said. Officers often are watching people go to their vehicles in the parking lot. There's video surveillance as well, which is a great security tool.
"Give us a call," Fancote said. "Nothing is too small. Our job is to make sure everybody is safe."