Center for Advanced Manufacturing in Laurens on Target for Late Spring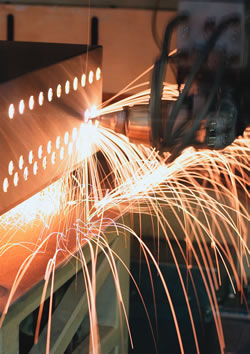 Plans for the Piedmont Technical College Center for Advanced Manufacturing in Laurens County were announced in late August 2011, and the project is moving forward quickly. The necessary demolition work is now complete, and construction began in early January. 
"The new Center will be a huge asset to Laurens County," said Jonathan Coleman, deputy director at the Laurens County Development Corporation. 
"Not only will it be a great recruiting tool to make Laurens County a more attractive area to prospective industries, but it will also be utilized by our existing industries to enhance their workers' knowledge of modern technology," he said.
The rapid progress is due in large part to the collaborative efforts and overwhelming support from the county, from ZF Group, and from the business and industrial communities.
The facility was initially planned to provide readySC, a division of the South Carolina Technical College System, with a dedicated space to meet ZF Group's initial training needs in collaboration with PTC industrial faculty, but industry leaders throughout the county see the Center's potential to benefit their operations.
"It's exciting when a community can come together to make something like this happen," said Susan Heath, area director of readySC.  "With the potential increase in industrial prospects taking a look at the community going forward, this facility will be invaluable. It illustrates that the county is pro-growth, and that there's an understanding here of what businesses need to be successful." 
Housed in the former Honda of Laurens building, the Center will be located along the I-385 corridor and is within easy driving distance of industrial and business sites throughout the county.
Construction on the 24,300 square foot facility will proceed in two phases. 
Phase One consists of a renovation of 13,000 square feet, and will include three classrooms, a CNC Lab, and a CMM lab for precision measuring of parts. This first phase was designed to provide readySC with the necessary tools to meet ZF Group's training needs as they bring new employees on board and ramp up their new facility in northern Laurens County. 
PTC's Continuing Education and Economic Development Division will also begin to offer professional development and non-credit courses to the public and to the Laurens County business community immediately after the first phase is complete.
"There's been a genuine need for a facility like this some time now, and we're looking forward to having an increased capability to provide training within Laurens County early this year," said Rusty Denning, associate vice president of Continuing Education and Economic Development at PTC.
According to projections, the initial phase should be complete by the end of April 2012. 
Phase Two of the project will include a Mechatronics Lab, a Welding Lab, additional CNC equipment, and another classroom shared between CNC and Mechatronics. This second phase will also include flexible space to accommodate additional readySC projects as more industries choose to locate in the county in the future.
When Phase Two is complete, Piedmont Technical College will be able to offer full industrial programs like Mechatronics, Machine Tool, and Welding entirely in Laurens County, complete with hands-on lab time for students—eliminating the need to drive to Greenwood for the hands-on portion of these curricula. 
Ultimately, the Center will serve as a showplace and recruiting tool for economic development efforts in the county. 
Coleman said, "This new Center is a game-changer for Laurens County, and the positive impact will be felt for many years to come. "