From Classroom to Clinic in PTC's Veterinary Technology Program
In recent years, the profession of veterinary medicine has become even more sophisticated and complex. The public expects state-of-the art veterinary care for animals. To provide high quality service, today's veterinary team utilizes the skills of trained professionals known as veterinary technicians.
If you love animals and enjoy working with your hands, then the challenging career of Veterinary Technology may be just right for you.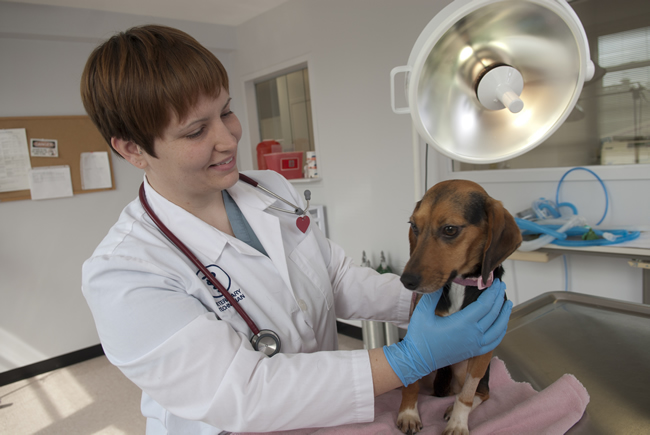 Designed to be a five-semester program that starts in the fall of each year, Veterinary Technology at Piedmont Technical College is designed to train licensed veterinary technicians. The curriculum prepares graduates to assist large- and small-animal veterinarians and provides opportunities for careers in research laboratories and pharmaceutical and veterinary supply businesses.
Piedmont Tech's program is the only one of its kind in the mid-state area of South Carolina, and one of only three programs of its kind in the state. The program at the Newberry County Center offers an Associate in Applied Science with a major in Veterinary Technology and serves the entire mid-state area.
A Wide Range of Career Options
With a projected 36 percent growth in employment throughout the U.S., the Bureau of Labor Statistics has listed a career as a veterinary technician as one of the top 50 fastest growing careers in the country.
"We see a very high demand for our graduates," said Sylvia MacFarlane, Veterinary Technology instructor and program coordinator. "We actually get calls from veterinary practices all over the region asking about students who are scheduled to graduate soon."
"We see a very high demand for our graduates. We actually get calls from veterinary practices all over the region asking about students who are scheduled to graduate soon."
Veterinary technicians are important members of the veterinary health care team; they are educated in the care and handling of animals, the basic principles of normal and abnormal life processes, and in routine laboratory and clinical procedures. All veterinary technicians work under the supervision of a licensed veterinarian.
"After students graduate and get their licenses, they can work in many facets of veterinary medicine," said Dr. Ruthie Buist, program veterinarian.
She says that students are well-prepared to work in clinical small animal practices which focus on common pets like dogs and coats. But they're also qualified to work in large animal practices, which focus on animals like horses and cattle, exotics and wildlife management, and in zoo animal medicine. Additionally, students can work in government-related careers, as USDA inspectors, in industry-related jobs in research, and in emergency and specialty medicine.
This variety of career options is reflected in the goals of the students who are currently enrolled in the program.
Candace Smith, a current Veterinary Technology student, hopes to be a member of a veterinary team in a zoo. "I am very confident that the knowledge and skills we are learning at Piedmont will help to prepare me for that path," she says.
Rose Walker, a student who will graduate in 2012 says, "I would like to work part time at a Veterinary Clinic and the rest of my time assisting a non-profit that trains and raises service dogs to assist those challenged emotionally and physically."
"Wherever our students want to go in the field, they can leave here confident that they'll be prepared," said MacFarlane.
AVMA-Accreditation
The Veterinary Technology program at Piedmont Technical College received accreditation from the American Veterinary Medical Association in June of 2009. Because of this important credential, students can sit for the Veterinary Technician National Examination (VTNE) to become fully licensed veterinary technicians.
Accreditation is a process by which an educational institution or program submits to a voluntary, non-governmental review to determine whether it meets accepted standards of quality. The self-study included curriculum, equipment and OSHA procedures. The final appraisal of each program is based on review by an evaluation site team visit.
According to the AVMA, accreditation "represents the highest standard of achievement for veterinary medical education in the United States."
"The accreditation is a testament to the quality of the Veterinary Technology program at Piedmont Technical College," said MacFarlane. "It's a signal to employers that our graduates will be ready for the job on day one."
Real-World Training, One-on-one Instruction
Because the Veterinary Technology curriculum is technical, hands-on skills are greatly emphasized in order to teach students the best practices in working with animals.
"Although we don't house any animals at the Newberry County Center permanently, we work with the local animal shelter in Newberry County to give the students as much experience with various dogs and cats as possible," said Buist.
She said that the program uses the shelter's animals for teaching so that students can see all the different breeds as well as behaviors that different animals experience. For the large animal medicine classes, students visit local farms to get hands-on experience with dairy cattle as well as horses and other common large animal species like goats and sheep.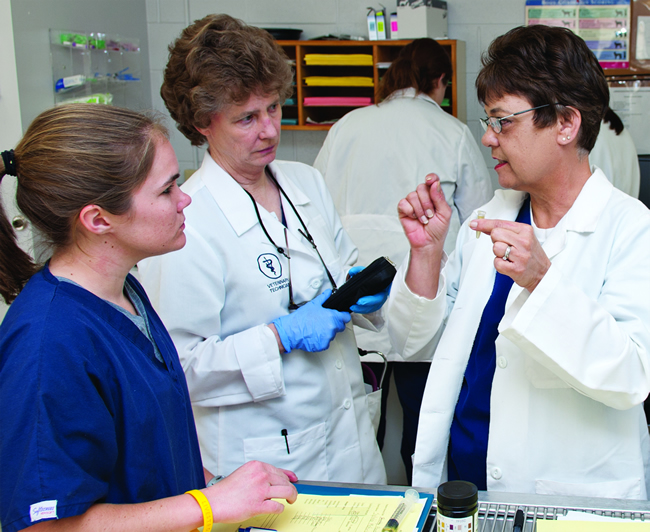 For Rose Walker, it's the hands-on training, combined with the expertise of the instructors that makes the difference.
"All the courses are extremely helpful, but I especially like the actual work with animals and learning one-on-one with instructors about techniques.  We have two primary instructors who are exceptional teachers and very patient with us as we move from totally ignorant about things to quite well-versed about the care and support of animals," she said.
Candace Smith agrees.  "The instructors we have in the program are very compassionate about what they do, and they are always available for any help or concerns the students may have.  The classes are instructed in a way that is beneficial to all learning types, and there is a lot of hands-on experience that will help greatly in the future."
"We take student success personally. Ruthie and I work closely with each student to ensure that their academic goals are being met," said MacFarlane.
Overall, although the program is challenging, students graduate with a wealth of knowledge that they can directly apply to their careers.
Walker offers this word of advice to new students:  "Just do it and take it one step at a time.  It really helps to have a love for animals to keep you going when the academics get tough, but you cannot get a better education about this subject for a better price.  Even if you decide not to go for full certification as a veterinary technician you will have information about the care of animals beyond your wildest dreams."