Distinguished Student is Proof that 'You Can Go Back Again'
Dot Holmes will trade safety goggles for business attire when she embarks on the next stage of her professional career. The 56-year-old veteran of some 27 years on the factory floor anticipates moving into the office suite when she receives her associate degree in Administrative Office Technology (AOT) from Piedmont Technical College (PTC) next spring.
A Greenwood native whose family moved to Edgefield County, Holmes entered the workforce straight out of Strom Thurmond High School, serving in a number of jobs before spending five years as a second shift packer at the FL Aerospace plant in Greenwood. After the facility closed in the 1980s, she started receiving unemployment and took a microcomputer course at PTC.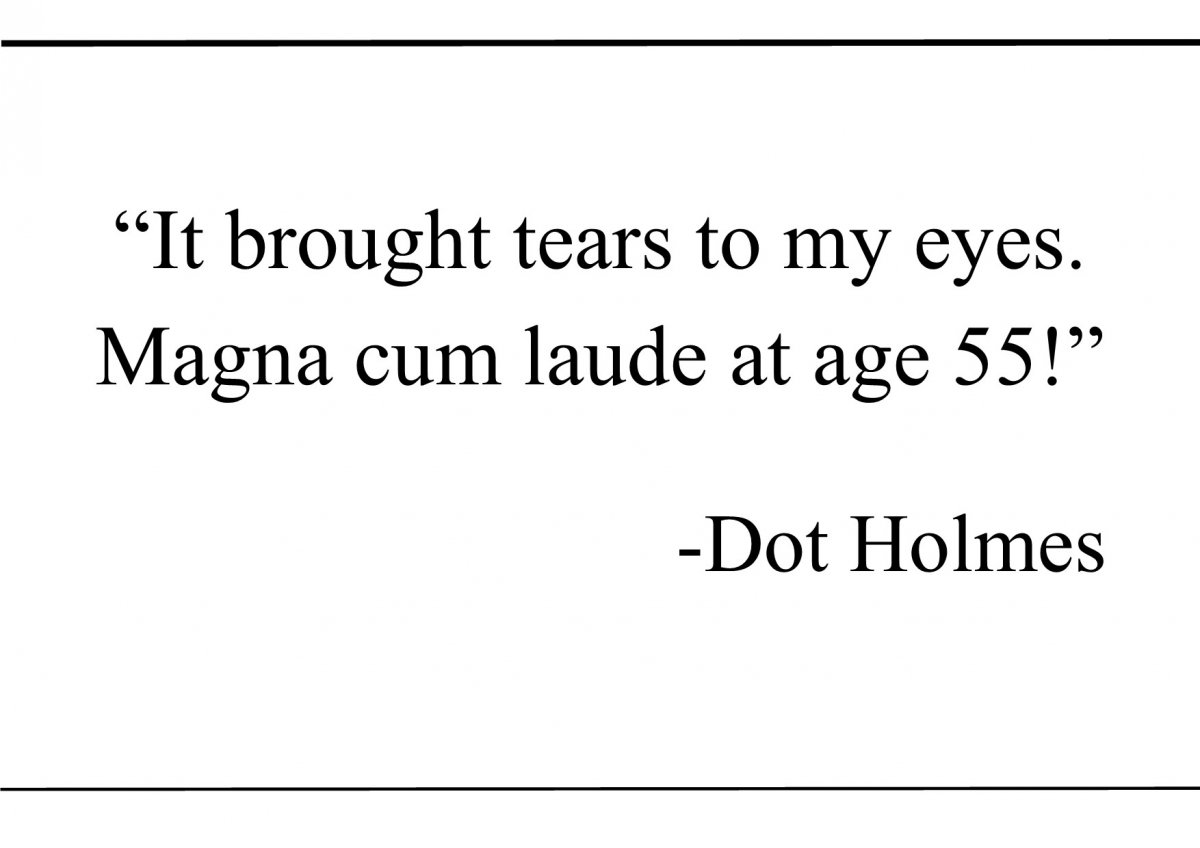 "During that time, I also attended a class for Capsugel (now Lonza) manufacturing certification," she explained. Just as her unemployment benefits ran out, Capsugel offered her a temporary job working nights in the Finishing Department. Impressed with the conscientious, self-starter, Capsugel soon made Holmes's status permanent. "That was my foot in the door. I ended up staying 22 years!"
When a medical condition forced Holmes to leave the manufacturing work environment, she turned to South Carolina Vocational Rehabilitation (VR) for help in taking her next steps. VR staff suggested she return to Piedmont Tech, even after all the years that had passed. She did and earned an Office Technician Certificate last December, receiving a happy bombshell on graduation day.
"I was very surprised when I found out I was graduating with honors," Holmes said. "I had always kept my GPA up, but I didn't know until I got to the graduation that I was graduating with honors, with the gold tassels. It brought tears to my eyes. Magna cum laude at age 55!"
At the urging of her advisor, Holmes decided to continue her course of study toward an associate degree, with a concentration in medical coding and billing, which she is working on now with plans to graduate next year. She's also working part time in the PTC CARE Planning Center.
Holmes's teachers had another surprise for her this past spring, bestowing on her the AOT Department's Distinguished Student Award.
"A while back, during her new student orientation, I could tell she was a little hesitant. She had been out of school for a while, but she has absolutely flourished," said Menka Brown, PTC department head for Business/Administrative Office Technology. "In all of her classes, she performs at the highest level possible. … She is always in class, always participates. She actually plays a leadership role in class. I think a lot of students look up to her."
"I was surprised," Holmes said. "I just attended classes and studied like everyone else. And I asked questions, probably too many questions. I had no idea."
Holmes's humility only endears her more to faculty and students around her.
"She doesn't brag on herself," Brown said. "She just gets the job done and does it extremely well. I think she even gets a little embarrassed by all the attention."
For now, Holmes is embracing her role as a mature student.
"A lot of the time, I am the oldest student in the class," she said. "I am happy to show people my age that you can go back to school. It's not too late!"
PHOTO CUTLINE
Dot Holmes