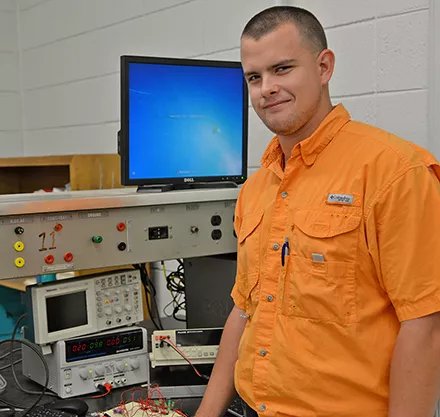 Early Interest in Electronics Leads to Teaching Career for Ninety Six Native
JC Crowder looks like a student, but don't be fooled by his appearance. The Piedmont Technical College mechatronics instructor knows his field.
"I do catch some flak for being as young as I am," Crowder said. "I teach mostly in the evenings with students who are working adults, and they're kind of wary of a guy half their age teaching the class."
Crowder grew up in Ninety Six in a family that believed if something broke, you fixed it. That ignited an interest in electronics. The interest led to a desire to become an avionics specialist with the United States Marine Corps, but his father convinced him to join the United States Air Force. So when he graduated from Ninety Six High School in 2009, he enlisted in the Air Force.
"When I enlisted, I was lucky enough to get an avionics slot," Crowder said. "Through that, I learned basic troubleshooting and basic theory behind electronics and decided that's what I wanted to do."
Crowder earned a degree from the Community College of the Air Force in avionics. After he completed his training, he stepped into the Air National Guard side of the Air Force which allowed him to enroll at Piedmont Technical College. He earned his associate degree in electronic engineering technology in 2013 and will earn his bachelor's degree from South Carolina State University in December. He moved into the mechatronics field because it provided a new side of electronics.
"Mechatronics is interesting to me because that's where the future is going," he said. "You get the best of both electrical and mechanical worlds in the same amount of time."
Teaching wasn't in the plan, but Crowder says he has appreciated his time in the classroom.
"My goal for the students is to prepare them the best that I can to go out into industry as soon as possible and get a job," Crowder said. "I enjoy watching someone finally understand a concept that they have struggled with until that point."
For more information on the mechatronics program, call (803) 768-8181 or visit www.ptc.edu/mechatronics.