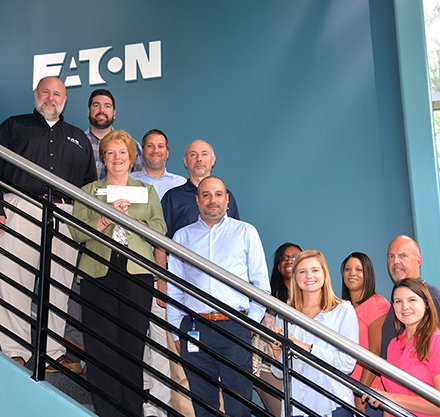 Eaton Corporation Continues Support of PTC Engineering Technology Program
September 11, 2018
Eaton Corporation in Greenwood recently presented the Piedmont Technical College (PTC) Foundation with a check for $45,000 to continue its steadfast support for engineering technology programs at the college. Eaton has donated to the program every year since 2004.
"For the past 14 years, the Eaton Corporation has provided generous financial support for the Piedmont Technical College Foundation," said Fran Wiley, the Foundation's assistant vice president for development. "These resources make an invaluable impact on our engineering technology program, including purchases of state-of-the-art equipment and educational supplies."
As a major provider of training for future Eaton employees, PTC ensures that these funds are used to help its students receive the most up-to-date training available. In past years, Eaton's donations have facilitated the purchase of equipment and systems to develop classroom projects that simulate diverse manufacturing processes.
"This year, these resources will be devoted to upgrading classroom and lab space with equipment that reflects even newer technology, including a large 3D printer," Wiley said. "These funds also will enable students to design, test and fabricate parts or prototypes in the classroom setting."
PTC offers degrees in a variety of engineering technology disciplines, including electronic engineering technology, mechanical engineering technology and engineering design technology. At its Greenwood-area facilities, Eaton manufactures hydraulic pumps and motors as well as medium voltage switchgear, switches, voltage bus ducts and network protectors.
PHOTO CUTLINE
PTC Foundation Vice President for Development Fran Wiley (center) is flanked by the Eaton officials who presented her with the generous donation. Pictured front row, left to right: Hugh Jones; Fran Wiley; Guillaume Laur; Adrienne Mendes; and Chelsey Steifle. Back row, left to right: Dallin Rees; Adam Corbett; Gleen McLean; Jessica James; Jenesa Salmond; and Rodney Bruner.