Engineering Tech Grad on Track to Achieving Goals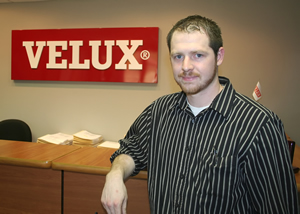 Rex Reece has found that starting at Piedmont Tech can put you on the track to achieving your goals.
The Hodges native graduated from Greenwood High School in 2005 and decided to take a year off. When he was ready to enroll in college, he turned to Piedmont Technical College.
"I needed to work," Reece said. "Piedmont Tech was close by and the night classes that were offered were very important to me."
Reece entered the mechanical engineering technology (MET) program and earned his associate degree in 2010. But he also continued to plan for the future. While enrolled in the MET program, Reece worked closely with Sung Kim, MET program coordinator, on transferring into the MET bachelor's degree program at South Carolina State University.
"Piedmont Tech was a great prep for the SC State program," Reece said. "It's a great place to start."
The engineering technology programs, including MET, are unique to the Piedmont Technical College campus. These are the only programs available where students can obtain a bachelor's degree from South Carolina State University without leaving PTC. This program is designed for the employed technical college graduates who possess an associate degree in engineering technology and who wish to obtain a four-year degree in the evenings.
"We talked about how I wanted to go into the SC State program," said Reece. "Once I graduated, the transition into the program was seamless."
Reece is on track to complete his bachelor's degree by summer 2012. He hopes this achievement will continue to help him move to a more advanced engineering position at Velux. Reece began at Velux in the maintenance department, but moved up to the engineering department, a move he credits to his education from Piedmont Tech. He said he is keeping his options open for a possible master's degree down the road.
"Piedmont Tech was a great prep for the SC State program," Reece said. "It's a great place to start."