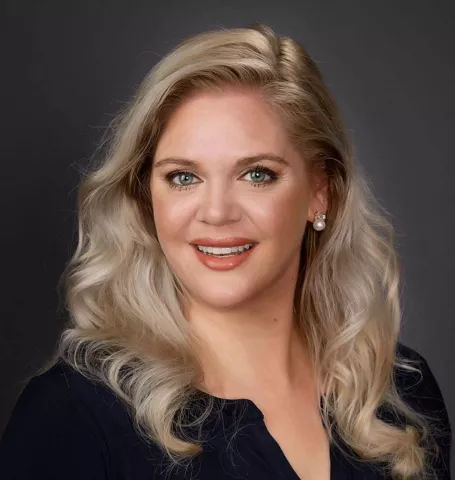 The Greenwood Promise Hand-Picks PTC Graduate for Special Role
Attending Piedmont Technical College (PTC) was — quite literally — life-changing for Nicole Herbert. After overcoming a series of life challenges, she came to PTC unsure and vulnerable as an older student in search of a career. She wasn't sure of anything or even whether she could succeed, but she persevered, graduating with an associate in applied science in administrative office technology/accounting concentration in 2020. The ardent support of her instructors and an unexpected internship opportunity morphed into a career that Herbert never imagined she could have. 

This unfolding story demonstrates how important connections and relationships can be in the professional world. While Herbert attended PTC and waited tables in a restaurant at night, unbeknownst to her, The Greenwood Promise (TGP) Executive Director Katie Davenport reached out to PTC Dean for Business Information Technology and Public Service Menka Brown because she was searching for just the right intern. Without hesitation, Brown recommended Herbert.

"I was The Greenwood Promise's first intern. I started at the end of 2019," Herbert said. "At first, I was just making appointments and calling different donors for meetings. Eventually I found myself actually going on solicitation meetings on my own."

Herbert acknowledged that it was daunting to venture out independently representing TGP, because she had no nonprofit fundraising experience. But the plucky blonde college graduate wasn't going to let self-doubt get in her way.

"The first meeting was intimidating, but I just used my people skills and my customer service skills to my advantage," she said. 

After the internship, Herbert graduated from PTC, and Davenport contacted her because the organization was embarking on an important fundraising campaign and needed a coordinator. Herbert started in that campaign coordinator position in February 2021. 

"Yes, I had never done anything like this before, but fortunately I worked with a campaign director with a lot of experience," Herbert said. "It was very beneficial for me to learn from her." 

The campaign ultimately raised more than $4 million. At its conclusion, Davenport wanted to keep Herbert on at TGP and secured her board's approval to hire her full-time as Director of Engagement and Donor Relations, a role Herbert began in February 2022. 

"Nicole was the missing piece of the puzzle for The Greenwood Promise that we didn't realize was missing until she started with us. Now that she is a part of our team, I can't imagine her not being here," said Greenwood Promise Executive Director Katie Davenport. "Nicole was The Promise's first intern through a PTC employee and parent of a former student of mine, Menka Brown. At the time, we were moving into a new office, and things were crazy, but Nicole stepped in and got to work. A few months later, COVID arrived and she left us, but in the interim, she would call or text, asking me to help a student or asking a question about a student's eligibility. She carried The Promise with her even when she was no longer working with us. That passion and engagement is rare and, thankfully, when the opportunity arose, we were lucky that she came back. I cannot express in words how amazing she is and how thankful I am for Nicole and PTC internship opportunities that placed her with us."

Herbert hit the ground running and loves that the position is so multifaceted, requiring lots of outreach, so she isn't tied to a desk all day long. 

"Absolutely fundraising is a very important part of the job," she said, "but my favorite part is that, on a daily basis, I can go into high schools and meet with seniors before they graduate. I try to find out what their plan is and help them with college applications and FAFSA as well as developing a pre-graduation checklist. … 

"Some parents are not as involved with their kids, so some high school seniors have to navigate all that on their own. Helping them is so rewarding." 

TGP is a last-dollar scholarship program to offset the remaining balance of post-secondary tuition and fees for every high school graduate whose primary residence is zoned for Districts 50, 51, or 52. The majority of TGP students attend PTC, though TGP supports students who enroll at institutions that offer programs not available at PTC. 

"The Piedmont Tech Financial Aid Department is always there when we need them," Herbert said. "They have been great to work with."

Herbert's gratitude knows no bounds, from PTC faculty members to TGP leadership. She insists she would not be where she is now without their guidance and support. She says they constantly reminded her, lest she forget, that she could do it.

"It really has changed everything. I graduated from college later in life, and I guess I really didn't know if I would wind up in a career. I knew I could 'get a job,' but a job is different from where I am now. I have a career. It has totally changed everything for me," Herbert said. "If Menka Brown hadn't recommended me, I wouldn't be in this position. … I am so lucky to have been given this opportunity. Katie is amazing to work with and a great role model. I could not be happier."
PHOTO: Nicole Herbert