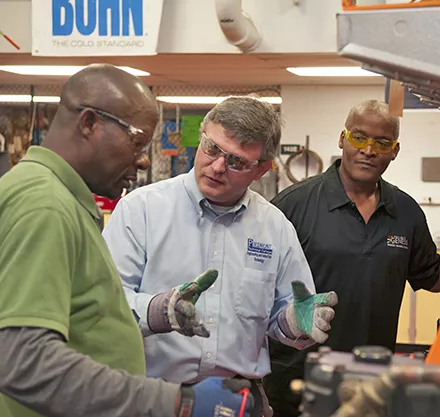 Heating, Ventilation and Air Conditioning Program Preparing Skilled Technicians
Every private residence, business, industry and agency needs the skill of technicians trained in the installation, maintenance and repair of air conditioning, refrigeration and heating systems. Because these systems are increasing in complexity, skilled technicians are in continuous demand to keep them running at maximum capacity.
In fact, according to the U.S. Bureau of Labor Statistics, Heating, Ventilation and Air Conditioning (HVAC) is one of the top 50 fastest growing occupations--projected to grow by 23 percent in South Carolina alone.
While opportunities are good across the board, job opportunities for HVAC technicians are expected to be particularly excellent for those who have completed training at an accredited technical college or through an apprenticeship. Candidates familiar with computers and electronics, as well as those who have developed troubleshooting skills, will have the best job opportunities as employers continue to have difficulty finding qualified technicians to work on complex new systems.
"Piedmont Technical College's HVAC program focuses on providing students with the theory and the real-world experience to fully understand the three main pillars of HVAC: air, electrical and mechanical," said Keenan Tallant, interim program director for HVAC at Piedmont Tech. "Students are then taught how to apply that knowledge to the same kind of challenges they'll face on the job."
Students learn to diagnose and repair malfunctions; size, fabricate and install air duct systems; and estimate cooling and heating loads for selection of the most efficient systems for a given building.
"When you're out in the field, the primary focus is on getting the job done, and you may not fully understand the science behind what you're doing every day," said Tallent. "To be successful in the field, you really need to understand the whole system. And that's the way we teach here. Our students learn from instructors with years of experience in the field."
The HVAC program offers certificates in Refrigeration Applications and Heating Fundamentals as well as a full associate degree, so there are options for everyone.
Students will soon be learning in a new state-of-the-art facility. The new space is a little over 10,000 square feet in size which is larger than the space currently provided for the program. The facility features 3,000 square feet of concreted space which will house outside training units as well as hi-tech classrooms, a new super market rack refrigeration trainer and mobile walk-in freezer units. The goal is to get all of the HVAC functions, which are currently spread across three locations on the Greenwood campus, in one location. This project is expected to be ready for classes in spring 2016.
According Tallent, demand for well qualified HVAC technicians in the area is constant.
"Right now, our placement rate for our 2013-2014 graduates is 92 percent," he says. "Generally, there are more jobs out there than we have graduates."
Tallent says that, because many of the HVAC business owners and contractors in our region came through PTC's program themselves, graduates can be sure they're getting exactly the training they'll need to go to work after graduation.
"We like Piedmont Technical College grads because they are local and they know the communities that we serve," said Jimmy Wilson, owner of Wilson Refrigeration and AC Service in Pomaria. "The students who have graduated from Piedmont Tech are more advanced than those who don't have that degree."
"We really care about our students," says David Kibler, interim dean of engineering and industrial technologies. "They're here because they know what they're learning can change their lives. We're passionate about what we do because we see every day the positive this kind of knowledge transfer has on them."
For more information, visit www.ptc.edu/hvac. 
Photo Caption: David Kibler, interim dean of engineering and industrial technologies, center, works with Barry Morton of Abbeville, left, and David Morton of Greenwood in the heating, ventilation and air conditioning lab.