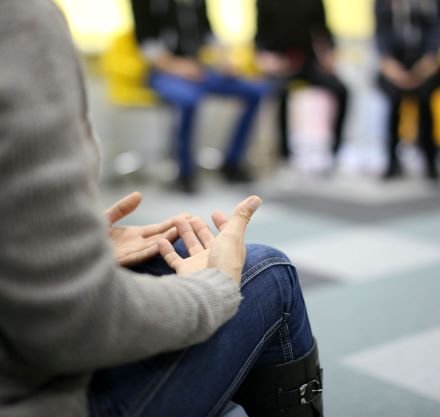 Human Services Program Adds Addiction Recovery Internship
October 13, 2020
The Piedmont Technical College (PTC) Human Services Program recently established a new student internship opportunity with Clear Skye Treatment Centers in Clinton. The internship is designed to afford students a broader experience in the Human Services field. The first three PTC interns began their field experience at Clear Skye in mid-September.
"I wanted to have more field options in providing services with substance use populations and more options for our Laurens County students," PTC Human Services Program Director Kristi Byrd explained. "Akila Boozer, a former co-worker of mine who is now a nurse practitioner at Clear Skye, put me in contact with Trisha Gordon, the center's director.
Clear Skye, with locations in Clinton and Gaffney, provides comprehensive treatment services for individuals recovering from opiate addiction. Boozer wanted to help Byrd establish the internship because there is a dearth of workers in the addiction field because of stigma. By exposing them to the strides being made in recovery, more students might find their calling.
"I feel that addiction is taboo in the community," Boozer explained, not just among patients and their families but also among many caregivers. "I believe there is a shortage of health care providers and social workers working in addiction. It's unfortunate."
"It's not so much that there's a shortage but a shortage of people who are passionate about the field and stay long-term. It's definitely not for everyone. It takes a special type of person," Gordon said. "It's important to have people who are sensitive and have thick skin. There are some behavioral issues among the patients we see. Change is hard, especially for people with addiction."
While PTC student intern Jasmine Perez of Newberry was looking for local internship opportunities, she learned about the Clear Skye opportunity in Clinton and decided to apply. She says it's not a long drive, especially considering the valuable experience she is getting.
"They help people addicted to opioids. It has been a really great experience so far. Honestly, I have learned so much in that facility," she said. "The whole staff there is really nice. The patients really do want to better themselves. That is what Clear Skye is for."
As a very busy young woman working two jobs while going to school, Perez appreciates the center's flexibility.
"I work mornings two days a week," she said. "It fits with my schedule."
Perez says she could envision herself working in a facility like Clear Skye some day. Director Gordon noted that she would consider hiring an intern because they would come on board already familiar with the job.
With her hands full between work and school and her internship, Perez is becoming adept in time management.
"It's a handful, but if you like what you do and want to better yourself, you have to do what you can," she said.
Gordon noted that she always has seen Clear Skye as a teaching facility. She also has some pharmacy technology interns and sees these internship programs continuing into the future.
"Internships give people a sense of what it will be like before they invest completely in a career," Gordon said. "I love that we can be part of the next generation of folks who will be doing what we do, helping families and, by extension, building up our community."
###