HVAC Program Prepares Skilled Technicians for Success
When all goes well, air conditioning and heating systems typically go unnoticed. But anyone who's lived through a South Carolina summer day when the air conditioning is on the fritz knows how important these systems have become in our daily lives.
In fact, every private residence, business, industry and agency needs the skill of technicians trained in the installation, maintenance and repair of air conditioning, refrigeration and heating systems. 
Because these systems are increasing in complexity, skilled technicians are in continuous demand to keep them running at maximum capacity.
In fact, according to the U.S. Bureau of Labor Statistics, Heating, Ventilation and Air Conditioning is one of the top 50 fastest growing occupations--projected to grow by 23% in South Carolina alone.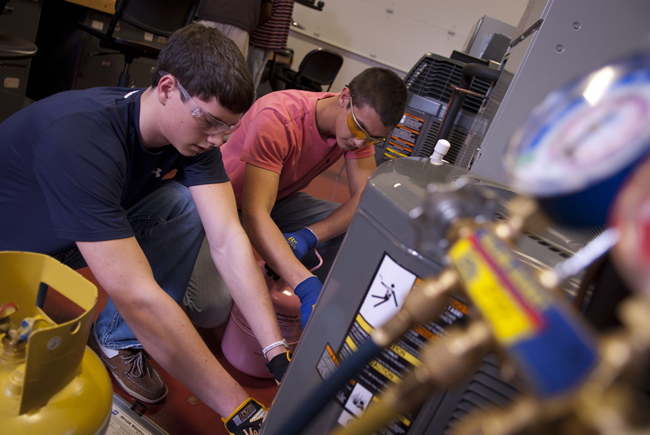 Theory and Hands-on Learning
While opportunities are good across the board in heating, air-conditioning and refrigeration, the best opportunities exist for those with an HVAC degree and certification, says David Kibler, HVAC program coordinator.
He explains that PTC's HVAC program focuses on providing students with the theory and the real-world experience to fully understand the three main pillars of HVAC: air, electrical and mechanical. Students are then taught how to apply that knowledge to the same kind of challenges they'll face on the job.
Students learn to diagnose and repair malfunctions; size, fabricate and install air duct systems; and estimate cooling and heating loads for selection of the most efficient systems for a given building. 
There are also plenty of opportunities for students to get real-world experience on actual HVAC jobs, from planning and design, all the way through installation, troubleshooting and repair.
Kibler says this focus on "closing the loop" is why the program continues to thrive. 
Students get real-world experience on actual HVAC jobs, from planning and design, all the way through installation, troubleshooting and repair.
He says, "When you're out in the field, the primary focus is on getting the job done, and you may not fully understand the science behind what you're doing every day. To be successful in the field, you really need to understand the whole system." 
"That's the way we teach here," he says. "And our students learn from instructors with years of experience in the field."
The HVAC program offers certificates in Refrigeration Applications and Heating Fundamentals as well as a full associate degree, so there are options for everyone.
Students also graduate with a variety of additional certifications from HVAC Excellence covering the whole spectrum of skills needed in the field, which makes PTC graduates even more marketable.
Although many are curious if field experience is required before enrolling, Keenan Tallent, an instructor in the program says that the program is designed to meet the needs of students at all skill levels. The program enrolls students who come in with no experience, and students who work out in the field every day.
"For people who do have field experience, we offer some exemption credit that allows them to enter the program with advanced standing," he says.
Practical Experience, Flexible Scheduling
"Our program is project driven," says Kibler. "After we go through the technical information in class, everything is directly applied through hands-on work."
Students design walk-in coolers, troubleshoot the same kinds of working systems they'll see in the field, and work closely with PTC's Building Construction Technology program to design, install and test full HVAC systems in new construction. 
The program also provides a service to the community by assisting organizations like Connie Maxwell, Dorn Veteran's Home and more.
Kibler says that all students coming through the program get this kind of on-the-job experience. "Every student will be involved in fully implementing at least one HVAC system from start to finish."
Students learn in state-of-the-art facilities including a brand new sheet metal lab, a weatherization facility, and a wide variety of HVAC equipment—all similar to what they'd find in the field. 
The program also hosts regular factory and service seminars, in which suppliers provide training to students and for people in the field.
For Mike Rhinehart, a second-year student, the hands-on portion of the program has proven to be the most helpful. "Anyone can read out of a book on how to do something, but unless you actually get to do it, it's really hard to grasp the concept," he says.
Tallent says that students learn the full range of skills they'll need on the job after graduation. 
Because PTC is aware that many students need to balance the demands of work and family while attending classes, the HVAC program offers several options to increase flexibility for students who need to work around a busy schedule. 
"We offer both an evening program and a day program," Tallent says. "The evening program is designed primarily for people who work during the day. 
Both programs last approximately two years for those who want an associate degree, but many students complete the program part time by taking a few courses at a time while they're working.
Solid Career Prospects
According to Tallent, demand for well qualified HVAC technicians in the area is constant. 
"Right now, our employment rate since 2009, even in today's tough job market, has been 94% placement," he says.  "Generally, there are more jobs out there than we have graduates."
"Every maintenance job is looking for HVAC skills," Kibler agrees. "We have a lot of students who are cross-training from other curriculum areas at the College because this skillset is in such high demand."
Tallent says that, because many of the HVAC business owners and contractors in our region came through PTC's program themselves, graduates can be sure they're getting exactly the training they'll need to go to work after graduation. 
 "There's a brotherhood here, and there's also a culture that develops as students learn, network, and become familiar with the suppliers and the contractors," Tallent says. "A lot of the local contractors cut their teeth in this program--this is where they got their basics, so they know the program is turning out well-educated graduates, and good workers."
According to Mark Penland, a second-year student, the HVAC program is a great choice for anyone looking for a rewarding, hands-on career. "The job market for this program has openings just about anywhere you could imagine," he says. "You can earn a great living and challenge yourself every day."
"We really care about our students," says Kibler. "They're here because they know what they're learning can change their lives. We're passionate about what we do because we see every day the positive impact this kind of knowledge transfer has on them."