Latimer Works to Meet the Needs of Students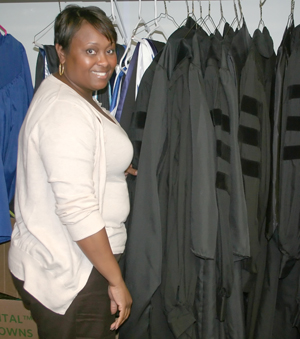 If Tanisha Latimer could be a professional student, that would be her job. But, she's doing the next best thing as registrar at Piedmont Technical College.
"I love working in higher education," she said. "I love to see the students come in, unsure of what they're doing, and see them develop."
Latimer earned a bachelor's degree in criminal justice and psychology from the University of South Carolina and a master's degree in counseling and guidance from Clemson University. She came to Piedmont Tech in 2001 as the minority retention counselor before becoming the nursing counselor. Four years ago, she became the registrar.
"When I became the registrar, I was excited and nervous because I knew how to be a counselor, but wasn't sure how to mesh the two," Latimer said. "However, it's the same skills because you are working with people, trying to find the best solution for every situation."
Her approach is working and now she has been recognized by her peers. She was recently awarded the Piedmont Technical College Staff Excellence award. Latimer says she was honored, but she doesn't do the job for the accolades.
"I don't go into this expecting a pat on the back, I do this because I love it," she said.
Latimer said the aspect of her job that makes her the happiest is commencement exercise each spring and summer. While it is a lot of hard work, she said it is also the most rewarding.
"When I see those students line up and cross that stage, it makes me the happiest because I know I played a part in them getting there," she said. "I get caught up in their excitement because they've met their goal."
Latimer says her greatest accomplishment in her life is her 14 year-old son, Martayez.
"I'm really proud of him," she said. "He values education because that's one of the things I've tried to instill in him. I want him to know that what you do now really does matter in your future."
On the career side, Latimer said she that while she is proud to be the registrar, she feels she has more to accomplish.
"Everything that I've done has led me to this," Latimer said. "There's so many things that I want to do. My passion is higher education so I can't imagine not being here."