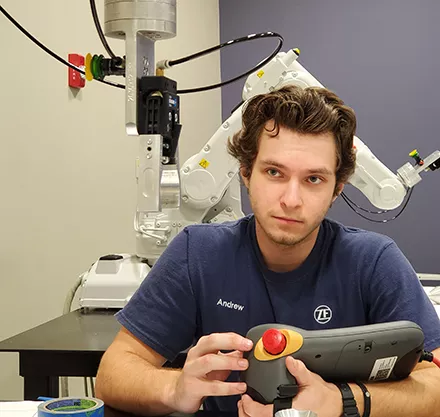 Mechatronics at PTC: 'Knowledge to Last a Lifetime'
Using a hand-held controller, known as a "teach pendant" that somewhat resembles an artist's palette, Andrew Tokarev deftly manipulates the robotic arm to execute his vision. The 20-year-old Piedmont Technical College (PTC) mechatronics technology student is developing skills that will transport him into a career spanning multiple mediums ― though not painting or sculpture ― that comprise electronic, mechanical, pneumatic, hydraulic, and other engineering systems to maximize manufacturing quality and productivity.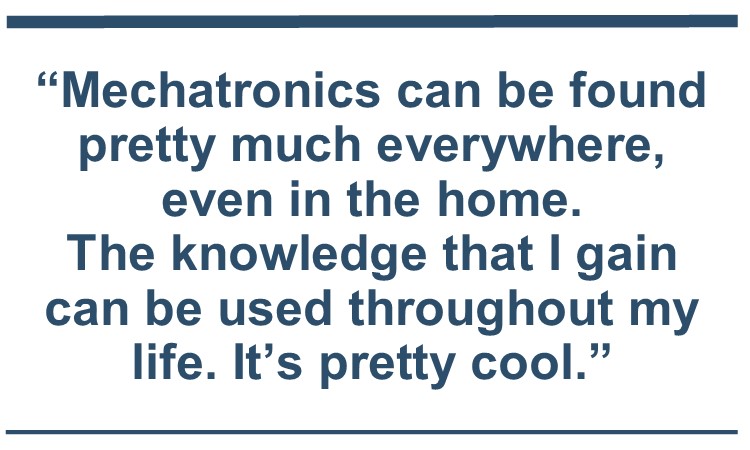 While attending classes at PTC, Tokarev is working part-time in a maintenance technician apprenticeship with ZF Transmissions, a high-tech manufacturing facility in Gray Court. He entered the apprenticeship straight out of high school and has never looked back.
"I didn't really know what I wanted to do for the longest time," said Tokarev. "I helped my dad work on cars every now and then, and that was a huge influence. I like to work with my hands and find out how things work, especially when it comes to the electrical and mechanical aspects of things."
Tokarev appreciates the wide range of disciplines that converge in the mechatronics field and the troubleshooting involved in diagnosing and solving problems. The versatility supported by the skill set virtually ensures a program graduate will be immediately employable in advanced manufacturing.
"Mechatronics can be found pretty much everywhere, even in the home," he said. "The knowledge that I gain can be used throughout my life. It's pretty cool."
Tokarev is pleased with the education he is receiving from PTC, noting that his instructors not only teach you what you should know but show you how to apply it. He definitely feels he is on a career track that will continue to stimulate and capture his imagination, and ZF is an ideal training ground and perhaps a place to nurture a more lasting career relationship.
"Working at ZF has been good," he said. "The way the program is set up, it's a three-year commitment. We do a different thing each year. This year I am going through different maintenance subgroups. So far, from what I have seen, I enjoy the company and the people."
###
PHOTO: Andrew Tokarev