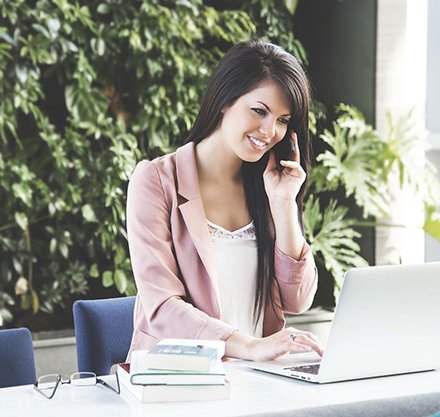 New Certificates Provide Training for the Modern Office
July 12, 2018
The clicking of keys ranks among the country's more common workday sounds and for good reason. Keyboards control sophisticated systems. Acquiring the knowledge and skills a computer-based work environment demands has never been more critical. To better provide skills essential to workplace success, Piedmont Technical College is adding three new certificate programs.
The administrative office technology department is adding two new certificates—the Customer Service and Support certificate and the Microsoft Office Specialist (MOS) certificate. In addition, the college's business program is adding the Human Resource Management certificate.
Vice President for Academic Affairs Dr. Jack Bagwell said, "These programs are in response to needs that have been expressed by our employers and our advisory committees. We anticipate these programs will be well-received by employers and students alike."
The administrative office technology major prepares students to work in the modern office where software packages commonly used include telephone systems, information-processing, accounting and database management. Certification in these systems helps students work independently and better manage office administration. PTC's Customer Service and Support certificate prepares students to pursue entry-level customer service positions. Mastering basic computer applications and office technology skills will help them better assist supervisors charged with customer support services.
MOS certification helps students develop skills essential to success when working with Microsoft Word, Access, Outlook, PowerPoint and Excel applications, which are common in the modern workplace. MOS certification can increase students' employment potential and lead to higher entry-level salaries.
The certificates consist of 24 credit hours, which can be completed in as little as two semesters.
"We're very excited about the new certificates," said Menka Brown, PTC instructor in administrative office technology. "We believe each will help our students develop the skills they need to make them more competitive in the job market. We also feel either certificate would be an outstanding starting point for students to continue their education toward an associate degree and beyond."
Suzy Murray, a PTC business department instructor, proposed and championed the Human Resource Management certificate.
"The Human Resource Management certificate will open new doors of opportunities for our students. With the recent addition of the Professional Human Resources certification option, our graduates can further distinguish themselves as highly qualified human resource professionals."
The Human Resource Management certificate prepares students to pursue entry-level HR generalist positions. Students learn basic types of management and supervisory skills, employment laws that affect the workplace and the functions all HR professionals perform in business and industry. This certificate consists of 12 credit hours, which may be completed in one semester.
Dr. Bagwell said PTC is bringing online several new programs, including these, that will let students upgrade skill sets and use these skills to find employment. "These programs will also allow the student to come back and apply those same courses to other credentials moving forward," he said. "Students do not always take direct pathways through their educational journeys. They need to be able to move between the worlds of higher education and work as seamlessly as possible. These programs will help some of our students do just that."
To learn more about PTC's administrative office technology and business certificates, contact Menka Brown at (864) 941-8343 or visit www.ptc.edu.