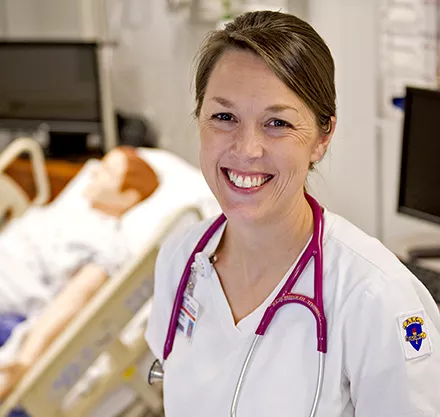 Nursing Student Makes Her Dream a Reality
From an early age, Abigail Hershberger knew she was gravitating to a career in health care. She read a lot and would find anything she could get her hands on that contained medical subject matter. She was also the oldest of 10 children and often found herself slipping into the role of caretaker when it came to her younger siblings. These factors were key points along her path to becoming a Piedmont Technical College nursing student. 
"I grew up taking care of people," she said "And taking care of people comes natural to me. And in nursing that's just what you do."
Though she had a clear idea of where she was headed, the Due West native did not start college immediately after high school. She got married and started a family.
"I was a stay-at-home mom, but always wanted to be a nurse," said Hershberger. "When my baby was born I decided to look into pursuing my dream. I chose Piedmont Tech primarily for the affordability of it."
Hershberger was also looking for a way to start her education while still staying at home with her children. She quickly discovered Piedmont Tech's online offerings and got started early on a part-time basis.
"I tried to take two or three courses per semester which was about all I could balance at the time," said Hershberger. "I did that for two or three years before entering the nursing program."
With the exception of a couple of labs, Hershberger was able to complete the majority of the coursework needed to enter the nursing program completely online. "If it hadn't been for the online courses that PTC has to offer, I wouldn't have been able to start when I did and I wouldn't be as far along in my degree as I am now," she said.
After completing her prerequisite coursework and after all of her children were in school, Hershberger entered the nursing program. She is now slated to graduate in May. She says she has been very happy with her decision to start at PTC.
"One of the benefits of a technical college over other types of colleges is that their focus is on getting us ready to enter the workforce," said Hershberger. "The training I've received in the lab and on the clinical site has prepared me and given me the confidence I need to go forward as a real nurse, in the real world, working with real patients.
"The main thing I've found helpful or very exciting here at Piedmont Technical College is that they really have a heart for making their students successful," she added. "They have the resources to help you be successful in any walk of life and at any age."