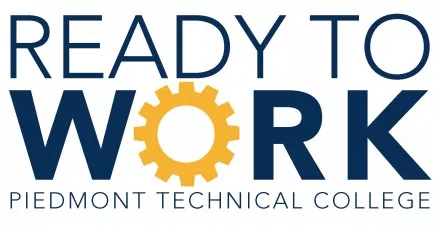 Piedmont Tech Awarded Grant for New Job Readiness Program
Piedmont Technical College has received the State Workforce Development Board's (SWDB) Apprenticeships for Priority Populations Grant which will help cover tuition costs for the first two steps of the college's new "Ready to Work" program. SWDB awarded the college $100,000 to implement apprenticeship opportunities for individuals with barriers to employment.
"We are very happy with this show of support from the State Workforce Development Board," said Rusty Denning, Associate VP for Economic Development and Continuing Education. "This grant will help make this training affordable for more residents in our region."
The program will provide training for well paid, highly skilled careers in manufacturing to individuals who aren't currently working in the region, such as "at risk" populations with lacking skillsets, and, in many cases, with background issues.
With the help of the grant, the cost savings for each participant are significant.
"The tuition for the first two steps of the program are free for qualifying participants," said Denning. "Combined, the workshop and the certificate are a $3,000 value."
Participants will receive personalized case management from Piedmont Tech employees to help connect them with community services they may require, such as record expungement and GED preparation. The program will also provide each participant with a clearly defined, three-step training process that will position them for successful careers and actual jobs that are in demand now.
The program begins with a three-week comprehensive workshop geared toward preparing these individuals for the modern workforce. The second step of the program will allow participants to bridge their training into a Quickskills certificate program at the college.
Participants who continue to the third step will enroll in an associate degree program at the college. They will be able to bridge the training from the previous steps to a degree in either Machine Tool Technology or Mechatronics Technology. Participants continuing to this phase of the program will be eligible for up to $1,500 in scholarship funds to help offset the cost of tuition.
All of these steps end in an important place for these individuals—a career.
"Beyond connecting them to services and providing training, participants in this program will be gaining skills through each step of this process that employers have told us they need in their employees," said Denning. "And they are going to be connected with HR reps, and companies who are hiring in this region every step of the way."
Participants must be at least 18 years old, provide proof of residence in South Carolina and complete the WorkKeys job skills assessment. They will also need to do a background check and drug screening, requiring a $55, non-refundable fee. This fee will be credited toward tuition when the individual continues on to the associate degree phase of the program.
The job readiness workshop starts on January 26.
Interested persons may attend an information session any Tuesday at PTC's Continuing Education office on North Emerald Road. Identical sessions will be held at 10:30 a.m. and 5:30 p.m.
To learn more about the program, visit www.ptc.edu/ready or call 864-941-8400.