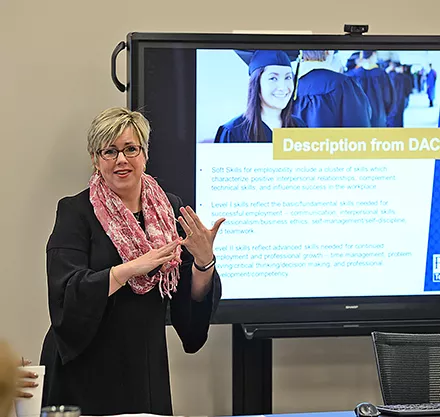 Piedmont Tech Going 'Soft' to Teach Students How to Work Hard
It's one thing to know how to do a particular job. It's another thing to know how to work.
Piedmont Technical College is making sure students acquire these key "soft" skills along with technical and academic knowledge through its Work Ethics Skills program.
Currently in its pilot stages, WES is being introduced to mechatronics classes on the Greenwood, Laurens and Newberry campuses. Faculty will be incorporating concepts such as attitude, listening and punctuality into regular coursework and assessing students on how they perform.
The program goes to the heart of Piedmont Tech's mission, according to Jennifer Lopes, a PTC foreign language instructor and co-chair of the Work Ethics Skills Committee.
"We not only give our students a quality education, we're preparing them for the workforce," Lopes said. "Meeting the needs of the community is also part of our mission, so it's a nice partnership."
The idea for WES sprang from conversations with human resources managers at local companies. They expressed the need for job candidates to have more preparation in soft skills.
"We heard what industry had to say," said Dr. Jack Bagwell, PTC vice president for academic affairs. "We have always addressed soft skills, but based on the feedback we've gotten, we want to do it in a more concentrated fashion."
The term "soft skills" is wide ranging and sometimes hard for students to grasp. PTC is using "work ethics skills" to better connect those concepts to employability.
Team projects, role-playing assignments and guest speakers from local industry are all ways faculty can make work ethics skills relevant in the existing curriculum, according to Lopes.
"They're practicing for their jobs," Lopes said. Mechatronics classes were good candidates for WES because some students are already participating in apprenticeships with local employers.
Instructors will assess students in six areas that have a significant impact on getting and keeping a job:             attendance; time management; professionalism; communication;      productivity and quality of work; and participation and teamwork.
Students will be given a score that won't impact their grades but will let them know where they stand in terms of employability. Low-scoring students will meet with instructors to discuss ways to improve. High-scoring students could eventually have their achievements made known to local businesses, confirming that they are strong candidates for hiring.
The plan is for PTC to gradually add students to the program.
"We're going to start implementing WES into a machine tool class in Laurens at the Center for Advanced Manufacturing," Lopes said.
There are also discussions with area school districts on how to coordinate WES with current soft skills training.
"Communication, collaboration, teamwork, critical thinking, and creativity are emphasized as we strive to prepare our students to be career and life ready," said Pam Lytch, a work-based learning coordinator at the G. Frank Russell Technology Center in Greenwood County.
Bagwell said the goal is to coordinate work ethics skills lessons across all local school districts.
"Many of us get our jobs, keep our jobs and advance in our jobs through our soft skills," he said. "WES is another example of how Piedmont Technical College prepares students for success."
Photo Caption: Piedmont Technical College is piloting a program to teach "soft" skills along with technical and academic knowledge. Jennifer Lopes recently presented the Work Ethics Skills program to area Career and Technical Education directors.