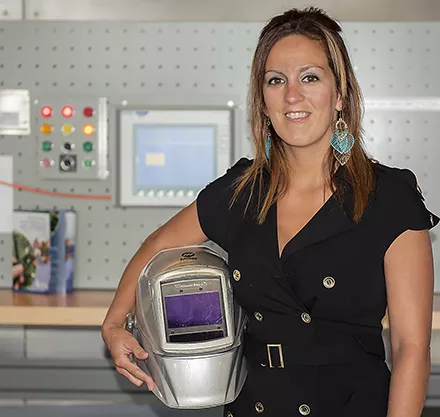 Piedmont Tech Graduate Shows Welding Not Just for Boys
Being raised with three brothers, Cassandra Jones was a self-proclaimed tomboy. She was interested in cars and mechanical things.
As an adult, the Newberry native came to the realization that she knew she needed more education to make a better life for her family, and especially her four daughters. She looked to Piedmont Technical College to explore her options.
"I've always been fascinated by welding, so I looked into the program,'" Jones said. "A lot of people questioned why I wasn't going to go into what they called a 'woman's field,' but that wasn't me."
Jones began her journey to earn her Associate in Applied Science with a major in General Technology-Welding, a degree that requires her to take classes in the welding program and a second industrial technology program. She completed the first part of the requirements and is now enrolled in the mechatronics technology program. Jones will graduate with her degree in August. Despite the doubts of many of her classmates, she has excelled in both programs.
"At first it was very difficult. They saw me as a girly girl and expected me to quit," she said. "But working with them and seeing them gain respect for me reminded me of my brothers. They became part of my family."
Jones loves the work she is doing and she hopes that her accomplishments will set a good example for her daughters. Her oldest daughter has already expressed an interest in enrolling in the mechatronics program at the Newberry County Career Center and then moving onto the program at Piedmont Tech.
"I want them to be strong, independent women," she said. "I want them to know they don't have to be confined by what society thinks is a 'woman's field.' They can do anything."
For other women, Jones said they need to think outside the box and follow their dreams.
"Following my passion and enrolling at Piedmont Tech was the best decision I've ever made," she said. "It's an accomplishment that not only I can be proud of but those four girls can be proud of."