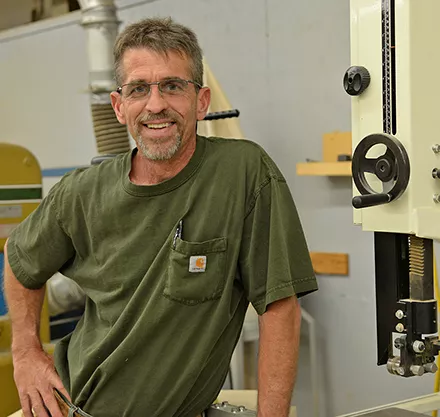 Piedmont Tech Instructor Finds the Right Path in Building Construction Technology
Bobby Roche tried many options in his search for his perfect career before he found his love with building construction technology (BCT). Now, 17 years later, he can't imagine doing anything else.
Following his high school graduation, Roche entered the workforce, but realized the job he was in wasn't what he wanted to do. He enrolled at Piedmont Technical College in the welding program. While he enjoyed welding, he knew it was not the career for him.  He changed his major once more before switching to the program that would lead to the career he still loves to this day.
"After two other curriculum choices, I found my love where I should have to start with and that was building construction technology," Roche said.  "I knew when I walked in the door that this was what I was going to do the rest of my life."
Roche graduated with his associate degree in 1988 and immediately went to work in the field. He worked with several cabinet making and contracting companies before joining the Upper Savannah Council of Government. There, he worked for nine years as a rehab specialist, supervising Community Block Grants throughout a six-county area. While taking a license review class, he was approached about teaching.
"One of the lead instructors in the program pulled me aside during a break and asked if I had ever thought about teaching," Roche said. "I asked him if he was crazy. But, we talked for a while and I listened to what he had to say."
Roche thought more about the concept of teaching and, in 1999, he joined the BCT staff at Piedmont Tech. However, shortly after he came to PTC, the program director left to pursue other ventures. Roche decided he was happy where he was and he believed in the vision that had been established for the program. So, he took the position of program director, a position he still holds today.
"There has been a lot of blood, sweat and tears to get us where we are today," Roche said. "But we have accomplished so much in 17 years. With the success we've had, I know we're heading in the right direction."
Roche faced a personal roadblock that nearly ended his career almost two years ago. He broke his neck without knowing it and the accident almost left him paralyzed. After two surgeries, he made his comeback. He never once considered quitting.
"There is not a quitting bone in me," he said. "I had it in my mind I was coming back. My love of teaching and my students are what drove me to come back."
For more information on the building construction technology program, call (864) 941-8465 or visit www.ptc.edu/bct.