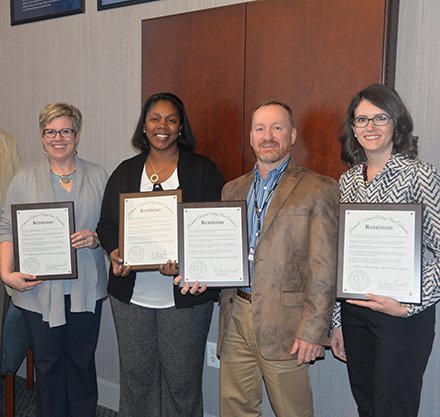 Piedmont Tech Team Honored for its Work Ethic Skills (WES) Program
April 18, 2018
Time is money on a manufacturing production line. Even the most technically skilled worker can present a problem if that worker is consistently late and the line has to shut down, even for just 15 minutes. Perhaps the worker doesn't understand the full impact of a perceived "minor infraction" like being tardy on co-workers, the company's competitiveness, and ultimately the company's bottom line. This "failure to communicate" could cost the worker his/her job and the company the price of downtime, training and replacing that worker.
In past years, the term for a full complement of behaviors surrounding workplace integrity and productivity was "soft skills." After a comprehensive study, Piedmont Technical College took up the challenge to form a Work Ethic Skills (WES) team, which developed a pilot system to integrate WES training into the curriculum of selected courses. That team ― comprised of PTC Humanities Department Head and Spanish Instructor Jennifer Lopes, Welding Instructor Tony Amos, English Instructor Rebecca Soppe, Associate Dean of Students David Rosenbaum, Computer Technology Instructor Coronicca Oliver, and Cardiovascular Technology Instructor Laura Boone ― has been selected as PTC's Innovation Team of the Year for 2018.
"The Work Ethics Skills team at Piedmont Technical College is methodically effecting a cultural shift at the college that will pay dividends for years to come ― with students and with the college's clients in business and industry," said Jack Bagwell, PTC's vice president for academic affairs. "The WES team created a holistic rubric and score system designed in collaboration with HR representatives from companies in our region to assess the six most desired work ethic skills in industry." Those skills are:  attendance; time management; professionalism; communication; productivity and quality of work; and participation and teamwork.
Joseph Bender, manager of recruitment for Self Regional Healthcare, expressed appreciation for the team's work in a written statement. "Our health care system hires many Piedmont Tech students, and we are fully supportive of this WES project. … Today's students need training on how to interact with fellow employees, managers and the corporate world. They need to know what is expected from them as a person, not just as a new graduate."
Representatives from K-12 education have expressed interest in the project as well, and area school districts are in discussion with PTC with an eye toward introducing WES principles into their current soft skills training programs.
"After providing well-designed professional learning experiences for our district leadership team, it was apparent the significant amount of time, effort and innovation that their team invested in the development of WES in order to meet the needs of the 21st century workforce," said Robert Maddox, superintendent of the School District of Edgefield County. "It was also clear that their work is perfectly aligned with the (SC Department of Education's) 'Profile of the South Carolina Graduate.'"
"The WES project will affect the lives and employability for all Piedmont Tech graduates," Self Regional Healthcare's Bender said. "More employers like us are looking at the whole person when interviewing candidates."
PHOTO CAPTION
At its meeting on April 17, the PTC Area Commission recognized the PTC Innovation Team of the Year. Pictured from left: Jennifer Lopes, Coronicca Oliver, Tony Amos, and Laura Boone. Not pictured:  Rebecca Soppe and David Rosenbaum.