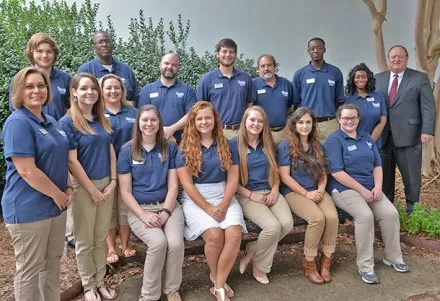 Piedmont Tech Welcomes New Class of Presidential Ambassadors
Each year, Piedmont Technical College chooses some of its best and brightest to serve as Presidential Ambassadors. These students represent the college at campus functions, provide tours and speak about their experiences to potential students. This year's select 13 are from a variety of backgrounds, representing many program areas and hometowns, but they all have one thing in common. They all echo a common message of gratitude for the impact Piedmont Tech has had on their lives, both personally and academically.
Heather Benshoof has struggled most of her life. She hated school and dropped out of high school. Along the way, the Greenwood native made several wrong turns. She found her path at A Place for Us ministries and the volunteers there gave her the courage to enroll in the human services program so that she could help others.
"I never thought I was smart enough to go to college. Piedmont Tech has changed my understanding of what school is," Benshoof said. "I can see that it's a door that can lead to anywhere I can imagine. It's a new adventure that I never thought I would go on." 
Morris Campbell is not your average student. Born and raised in New York, he moved around the southeast before coming to South Carolina in 2002. Once settled, he knew he needed to further his education. He chose the radiologic technology program at Piedmont Technical College.
"I spoke to several people who all recommended Piedmont Tech as a great place to start," Campbell said. "The Piedmont Tech family has been very supportive from the administration to my professors to my fellow students."
Mirisha Coleman knew she always wanted to go into nursing. The Abbeville native wanted to continue the tradition begun by her mother who was a nurse at Self Regional Healthcare.
"My mom had to retire before she was ready because of kidney failure, so I wanted to pick up the reins from her," said Coleman. "Nursing is an experience because you never know what you're going to run into. Some days are great and others make you wonder if this is really what you want to do."
Ward native Tammy Gillian was nervous about returning to school. As a mother and grandmother, she was worried she wouldn't be able to complete her classes. When she enrolled in the early care and education program, she discovered she wasn't alone.
"I found out I wasn't by myself and my younger classmates have stepped up to be very helpful," said Gillian. "A couple of years ago, I couldn't imagine being here."
Johnston native Erin Gilliland came to Piedmont Technical College following in the footsteps of her father and her aunt. She started out in the nursing program, but knew that was not for her. She decided to follow her father even more by enrolling in the engineering graphics technology program.
"My father graduated from Piedmont Tech with the same degree I'm pursuing," said Gilliland. "From the moment I walked into that classroom, I knew I was where I was supposed to be."
Sonia Gomez is a first-generation Mexican-American and proud that she will become the first member of her family to graduate from college. The Fountain Inn native worked in the hair industry after high school, a career she enjoyed, but she knew it wasn't the job that was going to give her the future she wanted. So, she enrolled in the radiologic technology program at Piedmont Tech.
"I love being a PTC student because my instructors are very supportive," Gomez said. "They motivate me and inspire me. This program is very difficult, but my instructors do not hesitate to help me in any way they can."
Tyler Grubbs was familiar with Piedmont Tech before enrolling in the occupational therapy assistant program in Newberry. The Prosperity native took several dual enrollment classes while he was a student at Mid Carolina High School, then took those credits to a four-year university. But a knee injury while playing baseball brought him back to his roots.
"In the end, it all worked out because the occupational therapy assistant program was just beginning here in Newberry," Grubbs said. "My family has always given me the encouragement I need."
Kristina Hill entered the associate degree nursing program with the goal of helping people. The Honea Path native has found that her involvement with the Presidential Ambassadors, the Lambda Chi Nu nursing honor society and the Student Nurses Association has given her more than she expected.
"Piedmont Tech has become my extended family," said Hill. "I like to give back to the college for all the support they've shown to me. I've gained so many skills I would never have learned from just attending college, opening my books and passing tests."
Elizabeth McCurry has tried many different paths while at Piedmont Tech. The Greenwood resident enrolled in the associate in science program with the plan to transfer to Lander University, but she had no idea what she wanted to do.
"I tried pharmacy technology, elementary education and business before I found my calling in mass communications," McCurry said. "I made the decision to attend Piedmont Tech because I am paying for college on my own and it was the most fiscally responsible choice I could make. It allowed me to complete my first two years at a lower cost while deciding what I ultimately wanted to do with my life."
Whitmire native Kenneth McDaniel never thought he would return to school after graduating from high school 35 years ago. But, after being laid off for the second time in seven years, he knew he needed to do something different. So he enrolled in the building construction technology program at PTC.
"I was lost and didn't know what I was going to do," said McDaniel. "From the very first day I can honestly say my professors and fellow students have made this a wonderful adventure."
Becoming a Presidential Ambassador was a natural fit for Marcus McMorris. The soft-spoken accounting student from Newberry said being a leader was what he was meant to do.
"I've always been the type of person to hand out a helping hand and felt the need to be a leader because I'm an older brother, and I have someone watching me all the time," McMorris said. "I have to be a leader and show that you can do it."
Leslie Sargent found her calling a Piedmont Tech by accident. As a senior at Greenwood Christian School, she was asked to write a paper on what career she wanted after graduation. She randomly chose radiologic technology because she thought it would be simple.
"I thought it would just be taking pictures of people," Sargent said. "But, it's so much more and I really enjoy it."
Maggie Smith was unsure about coming to college at Piedmont Tech. The Greenwood nursing student says she had heard horror stories of uncaring instructors, but she found that wasn't the case.
"The instructors at this college are amazing," Smith said. "They take time out of their day to make sure that you understand what you need to pass the class."
Edgefield native Jonathan Thomas earned a bachelor's degree in mass communication and worked in a variety of non-related jobs. He decided he was ready for a better career and enrolled in the radiologic technology program at Piedmont Tech.
"I spent 11 years bouncing around while my future waited on me to pursue a career in health care," Thomas said. "My mother just achieved her 40th year at Aiken Regional Medical Center, which is a real inspiration to me, and I hope to find an employer that I can be as devoted to as she."
Thomas Whelan had no idea what he wanted to do with his life when he graduated from Ware Shoals High School, but he knew he should probably go to college if he wanted to succeed. He had attended summer camps at Piedmont Tech, so he came to an Instant Admission Day at the college. But, he still didn't know what program he wanted to enter.
"Thankfully, PTC offered the Compass test and engineering showed up multiple times," said Whelan. "I decided to take the plunge and enrolled in the mechanical engineering technology program. It was absolutely a great decision."
Presidential Ambassadors share their stories one-on-one, in small groups, and as part of panel discussions. Ambassadors also answer questions related to academics and campus life.
The Presidential Ambassadors are a select group of second year students who are chosen to represent the president, the college and their program of study. These students are selected on the basis of their academic achievement, college and community involvement, leadership skills and potential and a willingness to give service to the college. Students are selected to provide a broad picture of the "typical" PTC student.
Photo Caption: Each year, Piedmont Technical College chooses some of the best and brightest to serve as Presidential Ambassadors. This year's ambassadors are, front from left, Tammy Gillian of Ward; Maggie Smith of Greenwood; Kristina Hill of Honea Path; Erin Gilliland of Johnston; Leslie Sargent of Greenwood; Elizabeth McCurry of Greenwood; Sonia Gomez of Fountain Inn; and Heather Benshoof of Greenwood. Back, Thomas Whelan of Ware Shoals; Morris Campbell of McCormick; Jonathan Thomas of Edgefield; Tyler Grubbs of Prosperity; Kenneth McDaniel of Whitmire; Marcus McMorris of Newberry; Mirisha Coleman of Abbeville; and Dr. Ray Brooks, PTC president.