Preparing Students for Great Information Technology Jobs
Today, computers are used at home, at work, at school, on our mobile phones and nearly everywhere else in one form or another. They've become indispensable parts of everyday life.
This explosive growth has created a demand for skilled technicians to maintain networks, to support users in everyday computing tasks, to design, maintain and implement new systems and more.
With this in mind, Lesley Price, department chair of Information Technology at Piedmont Technical College, has some practical advice for people considering their career prospects.
 "It's very important in this economy to have a skill," Price said, "and most IT jobs in our area require a two-year degree. In two years, you could have a degree from PTC, a certification, and a good salary at a secure job."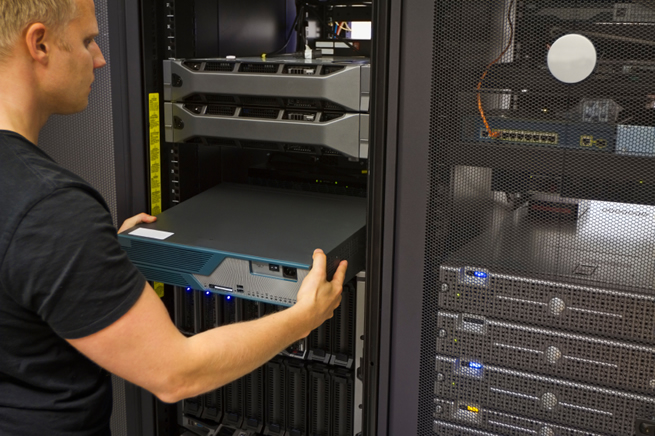 Although IT jobs felt the pinch in the recession like most other industries, the market for IT workers has been improving for some time now.
In fact, according to the Bureau of Labor statistics, no fewer than 10,000 IT jobs were added to payrolls in May alone, reflecting a steady month-over-month increase since January. And in a June survey by the IT jobs site Dice.com, 65 percent of hiring managers and recruiters said they intend to hire more tech professionals in the second half of 2011 than in the previous six months.
This environment offers fertile ground for graduates of PTC's Computer Technology program.
Price said, "We teach hands-on application here. When you go out into the work force, you've got to be able to do something—to apply what you've learned. Our graduates are ready for the job on day one."
Career-Focused Training
Students in the Computer Technology program at Piedmont Technical College learn about computer maintenance, local and wide area networks, and popular programming languages like Java and C++.
While all students take the same core courses, "Our students are cross-trained in lots of different disciplines, from Project Management and Wireless Communications, to Database Management and Virtualization," said Price.
According to Price, "Computer Technology is a rapidly-changing field, so it's important for students to have a wide-ranging skill set."
"We teach hands-on application here. When you go out into the work force, you've got to be able to do something—to apply what you've learned. Our graduates are ready for the job on day one."
Students receive training using the latest software available—from Windows 7 and Windows Server 2008, to widely-used open source operating systems like Linux. The curriculum is developed in response to the needs of area businesses.
"We spend a lot of time with our advisory board listening and understanding what employers need. Then we make sure those skills are being taught in the classroom," said Price.
For students like Brandon Latham, this focus on the practical needs of employers is exactly why he chose PTC.
"I decided to come to Piedmont Tech for a better career choice," he said. "I feel good about my decision, and I really like a lot of things about the program here—the smaller classes, and I love the instructors. They are serious about helping any time it is needed."
Certified for Success
Price said that students leave the program prepared for nationally recognized certifications like CompTIA A+, CompTIA Network +, and the Microsoft certification programs.
"We really stress making sure that students are prepared for these credentials in our classes," she said.
Certification is important because it shows employers you have the right skills to do the job, regardless of the vendor of the hardware or software product, Price explains. "A degree and certification really is the starting point for a career in IT."
Price goes on to add that earning a certification not only proves you have the right skills, but also the dedication and commitment to your career to continue learning.
The program is a good starting place for students right out of high school, and for those returning for more training.
Daubry Norman, a recent high school graduate says, "I find every single program, class and club helpful and interesting. After I finish this degree, I hope to go on to earn my bachelor's in computer science and put my skills to work."
Price also sees many people coming to PTC after earning a bachelor's degree to learn a marketable skill.
"That's what it's all about," Price said. "A career.  And we are doing everything possible to ensure that our students are prepared."
A Variety of Concentrations
The Computer Technology program offers four specific concentrations.
Internet
The Internet course work prepares students to become Web site designers and application developers. Students learn to use state-of-the-art technology in computer graphics and Web site design.
Network
The Network course work focuses on elective courses in administration of both Microsoft and UNIX based operating systems. PC repair and wide area network courses are also examined. Students gain experience in Visual Basic and Internet programming as well as today's popular desktop applications. "Networking is our most popular concentration," Price said.
Programming
The Programming concentration in Computer Technology includes elective courses in Visual Basic, C++, JAVA and database platforms. Students will also gain knowledge in the use of computer operating systems, applications and network maintenance.
Information Technology
The Information Technology concentration is only offered in the evenings. This gives students who are currently working during the day the opportunity to study in the evenings. A wide range of courses allows students to understand all aspects of computer technology.
For people looking for quick training, two certificate programs are offered: an Advanced Web Development Certificate and the PC Technician Certificate.