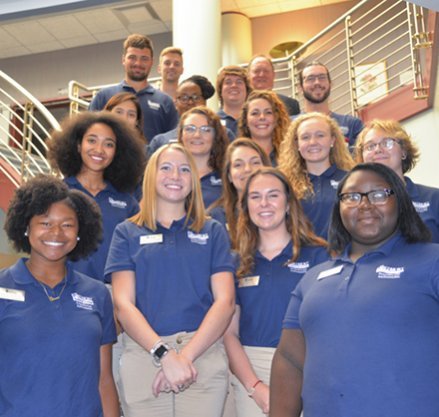 PTC Announces New Cohort of Presidential Ambassadors
September 24, 2019
Each year, Piedmont Technical College (PTC) chooses some of its best and brightest students to serve as Presidential Ambassadors. These students represent the college at campus events, provide campus tours and speak about their experiences to various audiences, including potential students and civic organizations. This year's 17 ambassadors hail from a variety of backgrounds and represent many program areas, but they all have one thing in common ― they share a deep gratitude for the impact Piedmont Tech has had on their lives.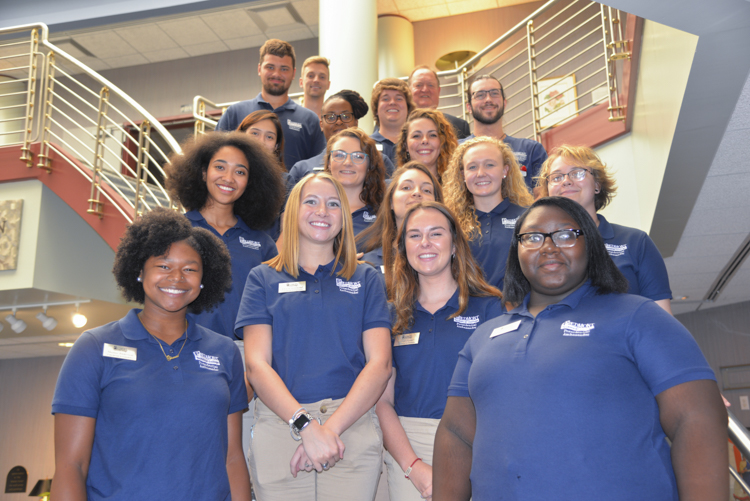 Antonia Adams of Edgefield is an avid supporter of giving back. It's just one reason she became a Presidential Ambassador. She is grateful for support from her teachers, tutors, friends and family who lifted her up during her intrepid return to school after the devastating loss of her parents in 2017.
"I enjoy helping students via tutoring and have a passion to help disadvantaged groups of people," she said. "I believe that professional development and personal encouragement can help anyone reach their goals. I would like to dedicate my life to advocating for these people and helping them become all they can be."
After graduating from PTC, Antonia plans to transfer to the University of South Carolina to complete a bachelor's in business administration. She hopes to go on to earn an even higher degree and eventually work in nonprofit advocacy and education.
Shania Anderson of Greenwood seized the opportunity to serve as a Presidential Ambassador because it would require her to step out of her comfort zone and meet the challenges of the year ahead. She is pursuing an associate in arts degree with a focus on business.
A team leader at Chick-fil-a, she hopes one day to own her own Chick-fil-a franchise. The multifaceted young lady also volunteers at Hospice and Palliative Care and is restoring a 1972 Cutlass she purchased last year.
Markayla Brown of Ninety Six is majoring in computer technology with a concentration in cybersecurity. She chose to be a Presidential Ambassador because of the example provided by her predecessors.
"When I first started at PTC, I met other students who were ambassadors who helped me along the way, and I want to do the same for others," she said.
In her spare time, Markayla enjoys playing video games, writing music, hanging out with friends and fishkeeping.
Trey Cook of Abbeville makes time to be a Presidential Ambassador because he is proud to represent PTC, and he would like to see others be able to change their lives just as he has. Majoring in cardiovascular technology, Trey is passionate about his field and aspires to expand his knowledge to make a positive impact.
"I am convinced that I have one of the best teachers in Laura Boone," he said. "She makes sure we are totally prepared for our boards with the most up-to-date developments in our field of medicine."
Anna Cowan of Abbeville is working on her associate degree in general technology/advertising design and photography. She is serving as a Presidential Ambassador to share her college experiences and perhaps inspire others.
"PTC's Commercial Arts Program changed my life, and I want others to know that!" she said. "This place has been the perfect place to begin the route to my future."
Anna hopes eventually to obtain a bachelor's in fine art at the Savannah College of Art and Design and perhaps living and working in Charlotte or Denver. "Being happy, healthy, doing what I love, financially stable and surrounded by people I love is what I hope to be doing."
Isis Cromwell of Iva sometimes sees the world through the colorful frames of a graphic novel. In fact, she would like to publish one in the coming years. Majoring in general technology/advertising design and photography, Isis revels in creative activities outside the classroom as well. She paints, creates digital art, plays video games and plays the guitar. She is a dynamic advocate for Piedmont Tech.
"I love speaking with new students about the college, and I've been on several recruiting events with my instructors," she said. "I wanted to have more opportunities to help represent and serve the college."
Nick Darragh of Greenwood is following in his grandmother's footsteps as a PTC Presidential Ambassador. "My grandma was offered the opportunity when she was in school, and she spoke highly of it, and it sounded like something I would also enjoy being a part of," he said.
An outdoors lover, Nick is working on his associate in criminal justice and hopes to one day live on a farm and use his degree to work as a game warden or police officer.
Sarah Foster of Ware Shoals is working toward an associate in arts degree. She hopes one day to establish a career as a dental hygienist. Outside of school, she enjoys reading and spending time with family, friends, and her puppy, Ollie. She credits her grandmother for inspiring her to care for others and to succeed.
"My Granny is the most influential person in my life because she always puts kindness first," Sarah says. "She is the best person all around."
Gracie Gilliland of Saluda is pursuing an associate in business administration/management concentration. She is a Presidential Ambassador because she wants students to know they attend an outstanding institution with lots of great people.
"Although there are many, if I had to choose, I would say my mom is the most influential person in my life," Gracie said, "because she makes me want to be a good person like she is."
Crystal Hernandez of Greenwood always can be counted on should there be a need for volunteers. As a Presidential Ambassador, she is a volunteer working to enhance the experience of her peers at Piedmont Tech. She sees her mother as her top role model.
"My mom always advises me and is a friend to me," Crystal said. "She is a single mother who I've seen overcome every obstacle. She inspires me to be better."
Shandra Martin's choice to become a Presidential Ambassador comes naturally. The Greenwood resident is called to service. She wants to help other students comfortably transition into college life. That's also why she is majoring in human services so she can help people in the community, especially children and the elderly. Family is dear to her heart.
"My 92-year-old grandmother is inspiring to me because she is my biggest supporter and always shows me to be humble and help others," Shandra said.
Britney McGovern of Greenwood knew from day one that she wanted to be involved with some type of organization at PTC. Being a Presidential Ambassador fit the bill.
"I feel that it is a window of opportunity to get out of my comfort zone and socialize with others outside my program," she said.
Majoring in radiologic technology while holding down a job at Food Lion, Britney looks to her father as a positive role model.
"My dad is the hardest-working man I know," Britney said. "Growing up, he always taught me that I had to work hard for anything I wanted in life. My dad went to college along with working a full-time job. … He is always there to cheer me on."
Weston Lindamood of Prosperity is majoring in cardiovascular technology. He looks forward to helping students and showing that a two-year program is completely worth the effort. In his spare time, Weston likes to play ultimate Frisbee, scuba dive, and travel. He hopes one day to travel as an echocardiography technician and to open a dive shop. He gets his drive to serve others from his father.
"I've never seen him be selfish, and that's what I want to be like," he said.
Charlton Saxon of Greenwood is working on his associate in science degree and hopes to transfer to the University of South Carolina Upstate to pursue a bachelor's in nursing. The Emerald High School graduate has very specific career goals, the first is to be a registered nurse working at Self Regional Healthcare. He also intends to continue his education and perhaps one day become a nurse practitioner. The most influential person in his life has been his father.
"My dad has always supported me since day one," he said. "He motivates me to be the best person I can possibly be. He has taught me very important things throughout my life that have been useful, and he has always pushed me to do great in school."
Patience Tennant of McCormick is majoring in human services. She is a Presidential Ambassador because she wants to help others and try something new. She is especially grateful for the support of her parents.
"They always push me to do great and do the right things," she said. "They also pushed me to go to college."
Kylie Wash is a busy young woman. The radiologic technology major from Edgefield stays busy playing with four pet dogs, practicing target shooting, driving a tractor, spending time with family and gardening. She aspires to live up to her father's example.
"My father has devoted 24 years to the Edgefield County Sheriff's Office and to the people of Edgefield County," she said. "He has always put others before himself. … He has taught me so much about life and has told me forever to always work hard even if nobody notices because your actions can speak louder than words."
Elena Worthing of Greenwood became a Presidential Ambassador because she loves Piedmont Tech and wants to let people know the college has a program for everyone. A human service major, she says her mother has set an example that she lives by.
"My mom, Jennifer, is the most influential person in my life," Elena said. "She has shown me how to love people and help them feel safe. She has always taught me the value of working hard to get to where you want to be."
Associate Dean of Students David Rosenbaum advises the Presidential Ambassadors program at PTC.
"Every year I am impressed by the intellect and maturity demonstrated by our Presidential Ambassadors," Rosenbaum said. "They represent Piedmont Technical College at the highest level and are using their stories to make the college experience relatable. They are smart, engaging and approachable. They represent the college with positivity and high energy."
The Presidential Ambassadors are a select group of second-year students who are chosen to represent the president, the college and their program of study. These students are selected on the basis of their academic achievement, college and community involvement, work ethic, leadership skills and willingness to serve the college.
GROUP PHOTO CUTLINE
Front row, from left (with residence in parentheses):  Shania Anderson (Greenwood); Gracie Gilliland (Saluda); Sarah Foster (Ware Shoals); Patience Tennant (McCormick). Second row, from left:  Antonia Adams (Edgefield); Britney McGovern (Greenwood); Elena Worthing (Greenwood); Kylie Wash (Edgefield); Isis Cromwell (Iva). Third row, from left:  Crystal Hernandez (Greenwood); Shandra Martin (Greenwood); Charlton Saxon (Greenwood); Anna Cowan (Abbeville); Trey Cook (Abbeville). Back row, from left:  Nick Darragh (Greenwood); Weston Lindamood (Prosperity); and PTC President Dr. Ray Brooks. Not pictured:  Markayla Brown (Ninety Six).