PTC Business Students Score Tops in Global Competition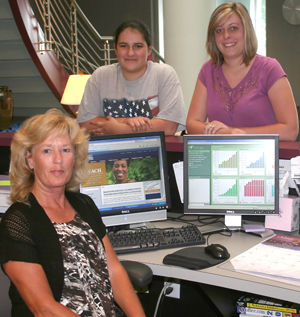 Graduates of the business program at Piedmont Technical College have taken advantage of an online project and proved that they are receiving world-class training by defeating more than 30,000 students from colleges and universities around the globe.
"We created the Management 240 class to be the capstone course of the business curriculum," said Suzy Murray, instructor. "We wanted the students to be able to demonstrate a cross-functional integration of management, accounting and other business courses to solve management problems."
Murray wanted to implement a project for the students that would test their knowledge in all areas and considered having the students start their own business, but the multiple sites proved to be a complication. Then, she found GLO-BUS.
"GLO-BUS was exactly what I was looking for," she said. "It was a virtual online exercise that utilized every aspect the students could face in the real business world."
GLO-BUS is a fully-automated, easy-to-administer exercise where class members are divided into teams and assigned to run a digital camera company in head-to-head competition against companies run by other class members. Company operations parallel those of actual digital camera companies. Just like Kodak, Canon, Fuji, Nikon and other real-world camera companies, GLO-BUS companies compete in a global market arena, selling digital cameras in four geographic regions—Europe/Africa, North America, Asia/Pacific and Latin America.
"Just like an actual company, there are no right or wrong answers," Murray said. "The teams' successes or failures are based on their decisions and the decisions of their 'competitors' in the market."
Students not only competed against each other, but also the more than 250 other colleges and universities worldwide who utilized the program. The project starts in year five for the company. All of the companies begin that fifth year at exactly the same place with their stock prices, business rating and profit expectations. The decisions they make along the way influence how those indicators change, either positively or negatively. Each week represents one year. At the end of the project, in the 18th year of business for the companies, the winner is announced. This year, a team from Piedmont Technical College took first place overall.
Teams were ranked weekly on their performance. The team of Harla Anderson of Ninety Six, Morgan Bennett of Greenwood and Jennifer Hughes of Laurens not only scored in the Top 100, Top 50 and ranked number one for overall score over several weeks, they finished as the overall best-performing company.
"It was challenging," said Hughes. "I feel that I've acquired much more than I had ever anticipated."
"It was a unique experience putting to use all of the training we have received in our business classes," said Bennett. "It was a hands-on learning exercise that brings together your knowledge about the different aspects of running a company."
The team held multiple weekly meetings, mostly by phone and chat provided by the GLO-BUS site, since they resided in different counties and attended class at different campuses.
"I am a very competitive person and I wanted our team to come out on top," said Anderson. "For our team to start out on even footing with business students from mostly big four-year schools, and then ending up number one from all the schools and teams makes us very proud for Piedmont Technical College."
In recognition of their achievement, the students have been invited to compete in an invitation-only tournament. The Best-Strategy Invitational (BSI) is a global competition among high-performing GLO-BUS companies from around the world. Hosted and administered by the GLO-BUS author team, the BSI is held over a two-week period each May, August and December. The winning team in each BSI industry is declared Grand Champion, awarded a BSI Grand Champion certificate, and inducted into the GLO-BUS Hall of Fame. Past Hall of Fame inductees include teams from Clemson University, Texas A & M and Singapore Management University.
"This project has been more successful than I could have imagined," Murray said. "I am amazed at how excited the students have been about the program. It will definitely be something I continue to utilize in my classes."
For more information on the business program, contact Murray at (864) 941-8445 or at murray.s@ptc.edu.
Photo Caption: Business graduates (clockwise) Harla Anderson of Ninety Six, Morgan Bennett of Greenwood and Jennifer Hughes of Laurens competed against more than 250 other colleges and universities worldwide in the online class project GLO-BUS, where they finished the year number one overall.