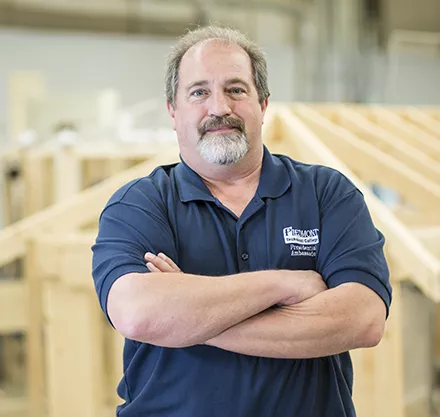 PTC Graduate Carves Out a New Future for Himself
In May, Kenneth McDaniel prepared to walk across the graduation stage at Piedmont Technical College to complete a journey that he was not always sure was possible when he decided to get his degree.
"I won't lie, I was scared to death that I would not be able to do this," he said of his decision.
Like many PTC students, McDaniel was returning to college years after leaving high school. He was in search of a career that would be stable—one that he would enjoy until he was ready to retire. In the end, not only did he find the career path he was looking for, he also excelled in his classes.
But his reasons for starting this search in the first place are where this story begins.
"Two and a half years ago, I got laid off from my second job in 7 years," he said.  "Since I wasn't getting any younger and the job market for my age group was getting smaller, I figured that I needed to find a career that hopefully would not end before I got the chance to retire."
He looked into career opportunities that would have him working in an office setting, but that wasn't for him. "I'm not really a sit at a desk and look at a screen kind of person," he said. "Whatever I ended up doing, I wanted to enjoy doing it."
When he was a teenager, McDaniel helped his dad build his house. As he was searching for a new career, he thought of this experience and how he enjoys doing small wood projects. This led him to consider construction as a career path. "There will be construction from now on, so I wouldn't need to be job-hunting anymore," he said.
McDaniel felt like the building construction program at Piedmont Tech would give him the foundation he needed to excel in the construction field while providing the knowledge base he would need to pass the South Carolina Residential Builders License exam.
He was prepared to enroll, but the Whitmire native had one more obstacle to overcome. How was he going to make two years as a fulltime student work?
"Since the program is offered a PTC's Greenwood campus, my wife and I decided we could pinch pennies and make it work as I pursued my Associate Degree in Building and Construction Technology," said McDaniel. "And the financial aid I received from the college also helped me along the way."
As McDaniel found out quickly, deciding to get his degree was the easy part. It had been 35 years since he graduated from high school, and he was not sure how he would do in his classes.
"As I continued with my classes, I discovered that I had to learn how to study and learn again," said McDaniel. "Also, I had to learn how to manage my time better."
Not only did McDaniel learn the necessary study skills, he excelled. In fact, he has been recognized as one of the top students in his program. During his time at Piedmont Tech, McDaniel has served as a Presidential Ambassador and president of the BCT-4-LIFE club. He has also received the Lakeland Home Builders Association scholarship and the President's Award, the college's most prestigious honor.
To cap off his time at PTC, McDaniel had the honor of being a graduation speaker at the college's May ceremony. From the stage he said, "It has not been easy to balance my academic work, student involvement and home life. With support from my wife, family and every instructor I have had throughout my time here at Piedmont Tech, I have made it here tonight. Without a doubt, that support has been a tremendous part of my success here."
"Remember that we can do anything we set our mind to and it is never too late to make changes in our lives," he added. "If you are in a rut, there is nothing wrong with carving out a new future if that's what makes you happy." 
After graduation, McDaniel was hired as an adjunct faculty member in the Building Construction Technology program at Piedmont Tech. He is preparing to take his residential builders license exam this summer.