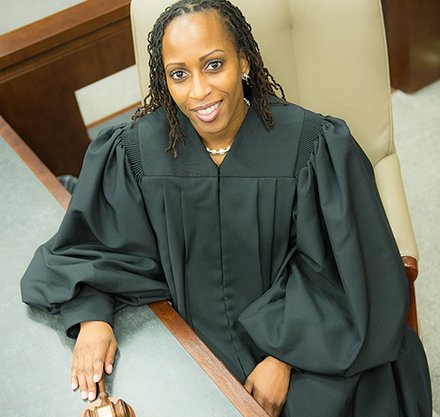 PTC Graduate Rises to Position as Magistrate Judge
July 23, 2018
Petite but powerful, Christina Pope had no trouble handling suspects twice her size as a former Richland County Sheriff's Deputy. And today, the Piedmont Technical College graduate is making an equally strong impression in the courtroom as a Richland County magistrate judge.
"If you have never met me, you would not know I had a career in law enforcement," Pope said. "I'm a small woman, but at the same time, I have a tough-woman persona. I wasn't just on the force. I was very successful during my law enforcement career. I was part of the Gang Task Force. … I am a lady, but I don't look like I can actually take someone down and handcuff them."
Thinking back, Pope faced formidable challenges. She is grateful for the opportunities available to her at PTC.
"I would definitely recommend Piedmont Tech. As a single mother just getting out on my own trying to find my way, it was perfect for me," Pope explained. "The schedule allowed me to attend school, to work and to raise a son by myself. The support that I had and the staff and educators there, they made my journey much easier. I think it encouraged me in a way that I was able to see that possibilities could become realities. My goals didn't seem out of reach."
Pope has been busy since she earned her Associate Degree in Public Service (majoring in criminal justice) from PTC in 2004. She served for 13 years in a number of roles with the Richland County Sheriff's Department (RCSD). During that time, she earned bachelor's and master's degrees, both in criminal justice, from South University. Most recently, Pope was sworn in as a magistrate judge for bail proceedings in Richland County in April 2017.
"I am enjoying it and learning a lot. I worked in law enforcement for 13 years," she said. "Now I am seeing the other side of that."
PHOTO CUTLINE
Richland County Magistrate Judge Christina Pope